This post may contain affiliate links, which won't change your price but will share some commission.
I love any excuse to have friends over, eat good food, and especially do all of it around a theme. So, for New Year's Eve this year, we had some friends over. They also have a baby, so we figured that rather than finding babysitters on the most expensive night of the year, we'd stay in and have a small scale celebration at our home. Now, I also love a challenge, and these friends presented one - they're vegetarians, and one of them is currently avoiding dairy, due to a potential allergy with her baby, who is still nursing. We came up with Tapas as a theme, and maaaaaan was it a challenge for me to steer clear of chorizo and manchego cheese ;). This recipe was something nice and simple that I was able to prepare while my son was napping during the afternoon. I'm glad I read through the recipe first, because on the site, it says that the total time is 21 minutes, but they forgot to account for the 2 hours (minimum) that they need to need to sit and dry. I changed that below, so it wouldn't throw anyone else off with timing. These are really tasty, and are great on their own, but would also be very tasty on top of a salad!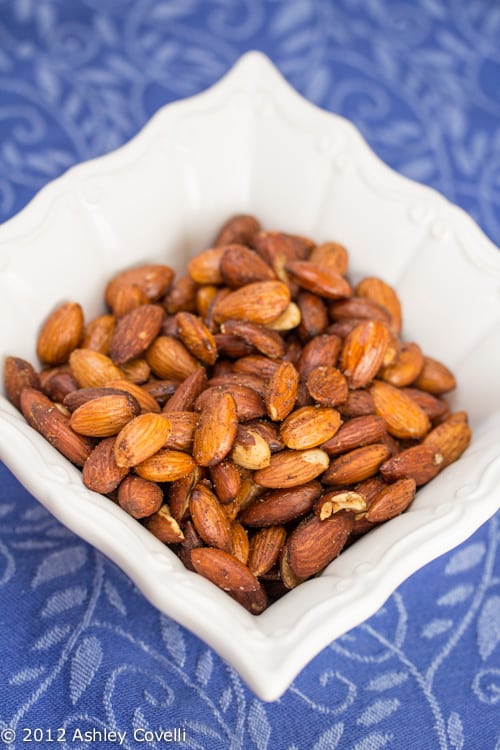 Spanish Spiced Almonds
Food.com - Sharon123
Total Time: 2 hours 21 minutes
Prep Time: 10 minutes
Cook Time: 11 minutes
Yield: 2 cups
These tapas style almonds are traditionally deep fried, but you can get the same results from oven roasting! Adapted from Vegetarian Times magazine.
4 teaspoons olive oil
1 ¼ teaspoons smoked paprika (hot or mild)
1 teaspoon ground cumin
2 cups blanched whole almonds
½ teaspoon sea salt, to taste (or kosher salt)
1. Preheat oven to 300°F.
2. Warm the oil in a small saucepan over low heat. Add paprika and cumin, and stir 1 minute to mix and release flavors. Remove from heat when mixutre just begins to bubble. Move to a medium bowl, and stir in the almonds.
3. Transfer almonds to parchment lined baking sheet, and bake 10 minutes.
4. Sprinkle right away with salt, and move to wire rack. Let dry at least 2 hours before serving. Enjoy!
Big Flavors Rating: 4 Stars