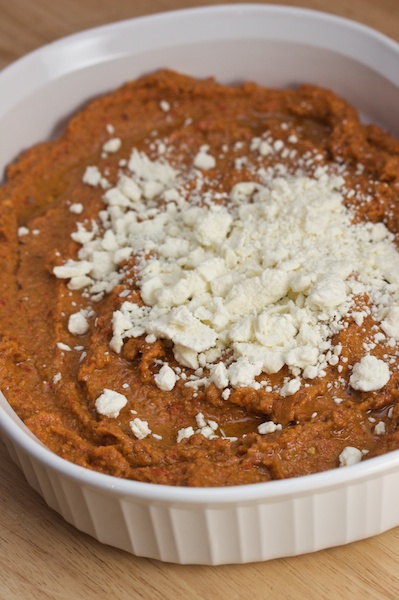 This post may contain affiliate links. Thank you for supporting the brands that keep me creative in my tiny kitchen!
This is one of our favorite dips. It's really different from any other appetizer we've tried. I usually don't bother toasting the walnuts, and instead of measuring, I just stream oil into the food processor until it's a good texture. I like to top it with an extra drizzle and some crumbled feta.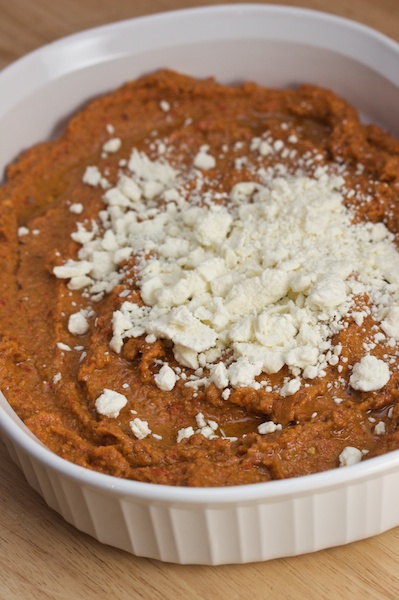 Muhammara
Gourmet December 1993
7-ounce jar roasted red peppers, drained
⅔ cup fine fresh bread crumbs
⅓ cup walnuts, toasted lightly and chopped fine
2 to 4 garlic cloves, minced and mashed to a paste with 1/2 teaspoon salt
1 tablespoon fresh lemon juice, or to taste
2 teaspoons pomegranate molasses
1 teaspoon ground cumin
½ teaspoon dried hot red pepper flakes
¾ cup extra-virgin olive oil
toasted pita triangles as an accompaniment
In a food processor blend together the peppers, the bread crumbs, the walnuts, the garlic, the lemon juice, the pomegranate molasses, the cumin, the red pepper flakes, and salt to taste until the mixture is smooth and with the motor running add the oil gradually. Transfer the muhammara to a bowl and serve it at room temperature with the pita triangles.
Makes about 1 3/4 cups.
Big Flavors Rating: 5 Stars