This post may contain affiliate links, which won't change your price but will share some commission.
This is the second time I've made these meatballs. I love that you can mix everything up an hour (or 24!) before you plan to cook them, and then just let it hang out in the fridge until you're ready for dinner. The addition of cooked quinoa makes them nice and fluffy, and makes these beauties gluten-free!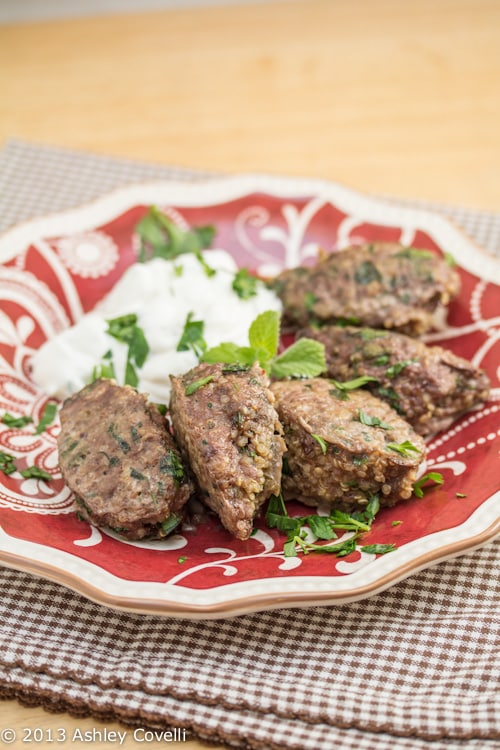 Minty Meatballs
SELF June 2013
Makes 24 meatballs
These are fairly large and entrée-sized. If you want them smaller, reduce the cook time by a few minutes.
1 ½ pounds lean ground beef (85 percent lean)
1 cup cooked quinoa
1 cup fresh flat-leaf parsley, finely chopped, plus more for garnish
½ cup fresh mint, finely chopped
1 egg, lightly beaten
2 cloves garlic, finely chopped
½ cup 1 percent milk
1 ½ teaspoons salt
½ teaspoon freshly ground black pepper
¼ teaspoon allspice
Parchment paper
In a bowl, mix together all ingredients until combined. Cover with plastic wrap and refrigerate at least 1 hour, up to 24 hours. Heat oven to 425°F. Form meat mixture into 24 oval balls (about 3 tablespoons each). Arrange on 2 cookie sheets lined with parchment paper. Bake 8 minutes; turn and bake 10 minutes more. Garnish with parsley if desired; serve.
Per 3 meatballs: 231 calories, 14 g fat, 5 g saturated fat, 7 g carbohydrate, 1 g fiber, 18 g protein
Big Flavors Rating: 4 Stars