This post may contain affiliate links, which won't change your price but will share some commission.
I've never been a big fan of minestrone because it always seems so watery and bland, but when I saw this recipe in one of my new cookbooks, I thought I'd give it a try. It turned out insanely well! It's hearty and full of vegetables, and was completely satisfying as a main course. As is true with a lot of Rachael Ray's recipes, I think the servings are more than generous...I think you could get 5 or 6 portions out of it. This is a recipe that's easily made vegetarian if you omit the pancetta, and use vegetable stock instead of chicken. I'm not sure if it would be as good without that extra flavor, but I'd be willing to try it. The grated cheese is the perfect finish to this bowl of soup. I'll definitely be making this again.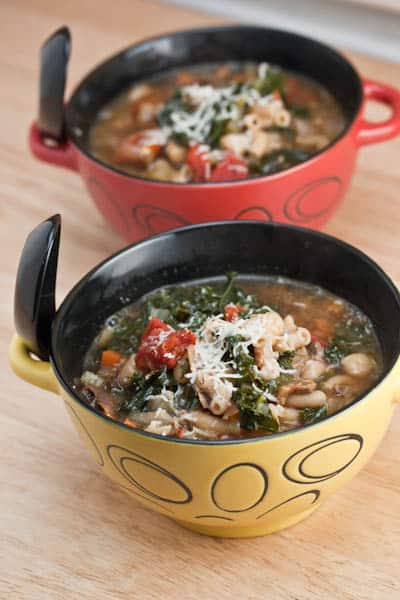 Midwinter Minestrone
Rachael Ray's Look + Cook
Serves 4
The beautiful colors in this hearty vegetable soup will brighten up a chilly day. Though wonderful in midwinter, this soup can be served anytime of the year.
2 tablespoons extra virgin olive oil (EVOO)
¼ pound sliced pancetta, cut into ¼-inch dice (optional)
2 carrots, peeled and chopped into ¼-inch dice
3 celery stalks, chopped into ¼-inch dice
2 bay leaves, fresh or dried
3-4 garlic cloves, finely chopped or grated
1 large or 2 medium red onions, chopped
Salt and pepper
1 ounce dried porcini or mixed wild mushrooms, chopped
½ cup soft sundried tomatoes, thinly sliced
4 cups chicken or vegetable stock (32 ounces)
1 small bunch purple or green kale, washed and dried
1 cup semolina or whole wheat ditalini or other short-cut pasta*
1 can chickpeas (15 ounces)
Pecorino Romano cheese, grated or shredded, to pass at the table
Place a heavy-bottomed soup pot over medium-high heat with the EVOO. Add the pancetta to the pot (if using) and cook until crispy, 3-4 minutes. Add the carrots, celery, bay leaves, garlic and onion(s) to the pot; season with salt and pepper and cook until the veggies are tender, 7-8 minutes more.
Add the mushrooms, sundried tomatoes, stock, and 2 cups water to the pot, and bring up to a boil.
Hold the kale by the stems and curl up your opposite hand around the greens at the base of the stems. With a quick jerking motion, strip the greens off and away from the stems and chop the greens.
Add the kale, pasta and chickpeas to the soup pot and cook the pasta to al dente. Season the soup with salt and pepper, to taste. Discard the bay leaves.
Ladle the soup into shallow bowls, top with the Pecorino Romano and serve.
*Optional: use Gluten Free
Big Flavors Rating: 5 Stars