This post may contain affiliate links, which won't change your price but will share some commission.
This is a really easy recipe to put together, and it has a lot of flavor. My only change was to add a bit of salt at the end to make the flavors shine. It was warm and comforting, and the blend of spices was perfect. I forgot when I was making it that I was cooking from a low-carb cookbook and I served it on top of rice. Oops haha! I'll definitely make this one again. I really enjoyed it!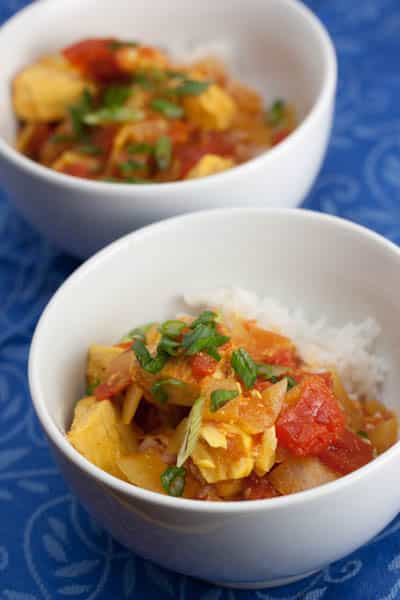 Middle Eastern Skillet Chicken
500 Low-Carb Recipes - Dana Carpender
3 boneless, skinless chicken breasts
3 tablespoons olive oil
1 medium onion, chopped
½ teaspoon ground coriander
1 teaspoon ground cumin
¼ teaspoon ground cinnamon
½ teaspoon turmeric
¼ teaspoon black pepper
1 tablespoon freshly grated ginger
1 can (14 ½ ounces) diced tomatoes
2 cloves garlic, crushed
1 cup chicken broth
1. Cut the chicken breasts into cubes. Heat the olive oil over medium heat in a heavy skillet, and add the chicken and onions.
2. Sauté for a couple of minutes, then stir in the coriander, cumin, cinnamon, turmeric and pepper. Cook until the chicken is white all over.
3. Add the ginger, tomatoes, garlic, and broth; stir. Cover, turn the burner to Low, and simmer for 15 minutes.
Yield: 3 servings, each with 14 grams of carbohydrates and 1 gram of fiber, for a total of 13 grams of usable carbs and 26 grams
Big Flavors Rating: 4 Stars