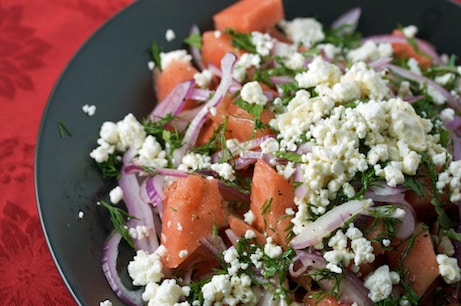 Mediterranean Watermelon Salad
This post may contain affiliate links. Thank you for supporting the brands that keep me creative in my tiny kitchen!
I saw this on Gaby's blog the other day, and it looked like such a refreshing salad that I just had to try it. I'm so glad I did! It's really refreshing and the flavor combination really works. I had some mint in my garden and some leftover dill, so I didn't have to get too much from the store. It's sweet and tangy and I love the bite from the red onion. This is a great summer salad!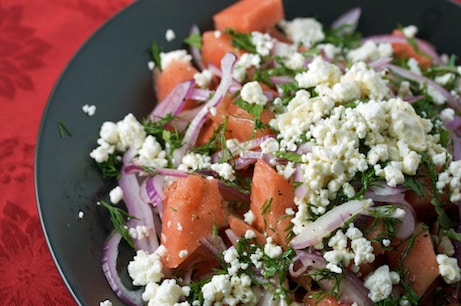 Mediterranean Watermelon Salad
What's Gaby Cooking?
½ red onion, thinly sliced
2 tablespoons lime juice
1 lb. watermelon
1 tablespoon honey
salt and pepper to taste
¼ cup extra virgin olive oil
2 tablespoons mint
2 tablespoons dill
5 ounces real fabulous delicious feta
Slice the onion and put into a large bowl. Squeeze the lime juice over the onion and let rest. Meanwhile trim the watermelon and cut into bite sized pieces. Remove the onion from the lime juice. Add the honey, salt, pepper and oil to the lime juice and whisk until emulsified. Place the watermelon slices on a platter and top with the onions, herbs and feta. Drizzle the emulsified oil on top of the fruit.
MacGourmet Rating: 4 Stars