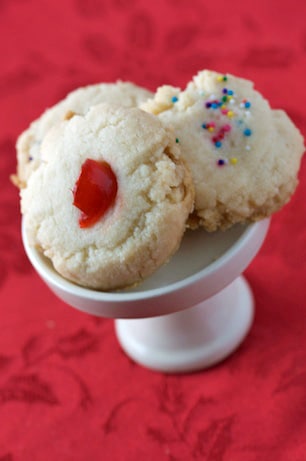 I went to a Puerto Rican dinner party and wanted to bring a dessert. I found a recipe online for some shortbread type cookies and then consulted a Puerto Rican coworker of mine to see if the recipe would be good. The recipe that she makes all the time is the same one that I had found! Her directions were a little better though, so I posted hers below. They're a really different type of cookie – they're similar to a shortbread with a slight almond flavor. I only got to try a bite of one and it was good – I left a few for Dino and he said they were really good, too. I left the party before dessert, so I'm not sure how they went over there.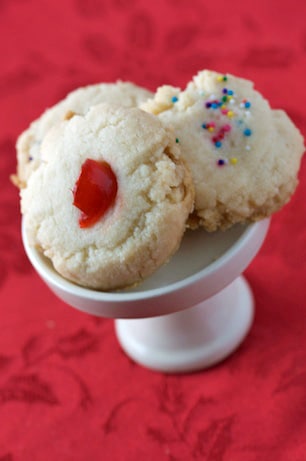 Mantecaditos
Azalia Fernandez
¼ lb. butter
½ cup vegetable shortening
½ cup sugar
1 teaspoon almond extract
2¼ cups flour
5 maraschino cherry
Preheat oven 350
Cream butter and shortening. Blend sugar and rest of the ingredients, except for the cherries.
Take the mixture by teaspoonfuls and rub with the palm of hands to form balls
Arrange in an ungreased aluminum sheet. Press the ball gently withe the palm of the hand to make a cookie.
Instead of cherries I use sprinkles to put on top. Just few for garnish.
Bake for 20 minutes.
MacGourmet Rating: 3 Stars