This post may contain affiliate links, which won't change your price but will share some commission.
I picked up a book on street food from the library. It's a really cool book - it has dishes from all over the world inside. I was excited to try out an Ethiopian dish, because I recently acquired some berbere and wanted to use it again. This was pretty easy to put together - the only potentially tricky part is making sure that you stir it and add more water occasionally so it doesn't burn. The house smelled amazing while this was cooking. I served it over brown rice, and it was a nice, satisfying meal. I'm excited to try out a few more recipes from this book, and may even end up picking up a copy of my own!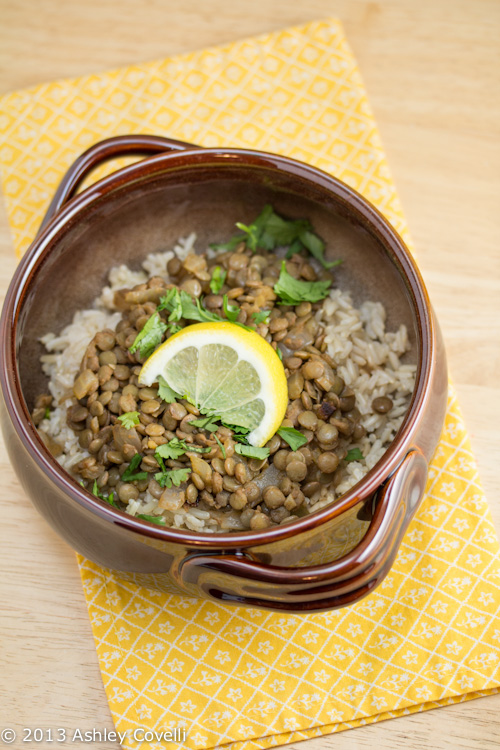 Lentil Wat (Stew)
The World of Street Food: Easy Quick Meals to Cook at Home - Troth Wells
Serves 4
Preparation: 10 minutes
Cooking: 20-30 minutes
1 cup / 225 g lentils
1-2 onions, chopped
3 cloves garlic, chopped
1 teaspoon berbere* or 1 teaspoon chili powder
1 teaspoon fresh ginger, grated, or 1 teaspoon powdered ginger
3 cloves
½ teaspoon nutmeg, grated
juice of ½ lemon
1 tablespoon parsley or cilantro/coriander, chopped
salt and pepper
oil
*Ethiopian spicy sauce, available in specialty stores
1. Put the lentils in a pan with enough water to cover, and bring to the boil. Skim off any froth with a spoon, and then reduce the heat and simmer, covered, for 15-20 minutes until they are cooked and crumbly. They should have absorbed most of the moisture; if not, drain off the excess.
2. Now heat the oil in another pan and sauté the onions, adding the garlic after a few minutes when the onions are translucent.
3. Next, add the berbere or chili powder, the ginger, cloves, nutmeg and lemon juice. Stir well to combine the ingredients. Pour in a little water or oil if the mixture begins to catch.
4. Spoon the lentils into the spice mix and season. Cook over a gentle heat for 5-10 minutes to let the flavors expand, stirring frequently so that the mixture does not burn. Again, add more liquid if necessary to keep it moist. Garnish with parsley or cilantro/coriander and serve with breads or rice.
Big Flavors Rating: 4 Stars