This post may contain affiliate links, which won't change your price but will share some commission.
I was excited about this recipe. It allowed me to use the arugula that I got from the CSA and some ricotta that I had leftover from when I made Honeyed Figs with Ricotta and Thyme a little while back. Unfortunately, this one just didn't sit too well with us. The bitterness of the arugula and sourness from the lemon was all we could taste. It needed something else to round out the flavors. Maybe my ricotta wasn't good enough...I dunno. It got a lot of good reviews on the site that I got it from though. Maybe we're just baby arugula fans in this house. I definitely won't be making this one again.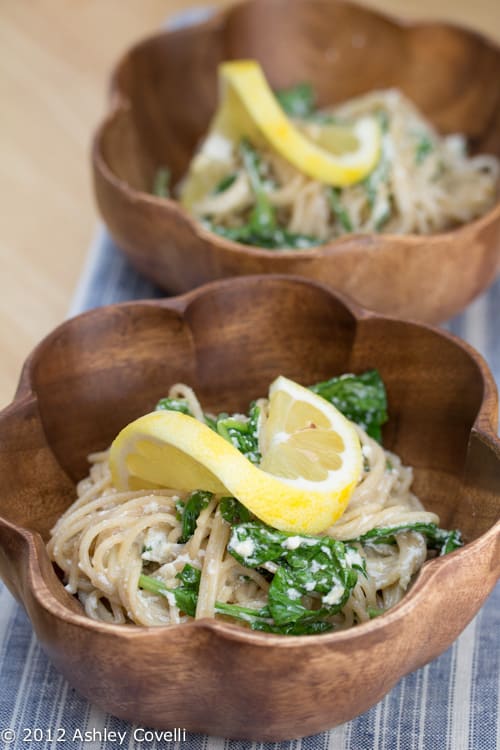 Lemon Ricotta Spaghetti with Arugula
Food 52
This recipe serves 2-3
½ pound spaghetti [I use whole wheat but use whatever you prefer]
¼ cup extra virgin olive oil
2 cloves garlic, sliced lengthwise as thinly as possible
2 tablespoons lemon zest, from 1-2 lemons
juice from 1 lemon
1 pinch red pepper flakes
1 cup fresh ricotta, homemade or best quality
4-6 tablespoons leftover ricotta whey or leftover pasta boiling water
4 cups lightly packed arugua
salt
1. Bring a pot of well salted water to boil
2. While the water is coming to a boil, slice the garlic and put a small saute over low heat. Add the olive oil, the garlic, and a nice pinch of salt. Let the oil and garlic slowly heat up. You don't want the garlic to brown. You are just warming the oil and letting garlic infuse it.
3. While the oil and garlic are doing their thing, zest the lemon and wash and dry the arugula.
4. Once the water comes to a boil, add the pasta and cook until al dente. Drain and reserve some pasta water if you don't have any ricotta whey.
5. Once the pasta is boiling, turn the heat under the saute pan to as low as it goes and add the ricotta, lemon zest, and a pinch of red pepper flakes. You just want it all to warm it up while the pasta is cooking.
6. Once you drain the pasta, add it to the saute pan and toss well. Add ¼ cup of whey or cooking water and the arugula and toss again to coat and wilt the arugula. If you feel it is too dry, add up to 2 more TB of whey or cooking water. Taste for salt and add the juice from ½ a lemon and toss once more.
7. Serve, topping each bowl with a few sprinkles of coarse salt or fleur de sel and a few drops of lemon juice.
Big Flavors Rating: 2 Stars