This post may contain affiliate links, which won't change your price but will share some commission.
This recipe is incredibly simple - and only requires 2 ingredients! I had some tilapia in the freezer, and some pesto leftover from when I made Basil-Scented Oat and Tomato Soup, so I had everything on hand to make this. I couldn't believe how much flavor this had! It was really tender and flaky and delicious. My only complaint is that the pesto that ran off the edges of the fish burnt on the pan pretty badly. I served these on top of couscous with green onions and Squash and Zucchini Tarts.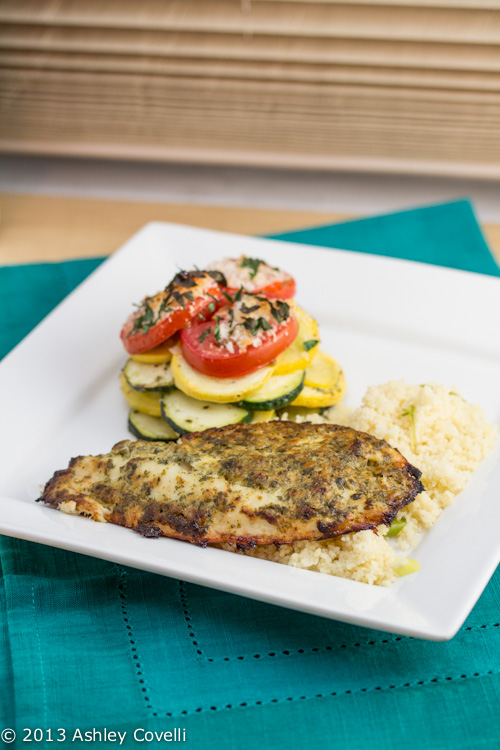 Lean Pesto Tilapia
Sweet Basil
Prep Time: 2 minutes
Cook Time: 20 minutes
Total Time: 22 minutes
Yield: 4 servings
Serving Size: 1 Filet
Light and flaky tilapia with a fresh basil pesto. Perfect for slimming down, but delicious enough to satisfy hunger
4 Tilapia Filets (we use frozen from Costco)
½ Cup Prepared Pesto
Heat the oven to 400 degrees.
Drizzle the pesto evenly over each filet of fish. Place in a lightly greased baking dish and bake for 30-35 minutes. Serve over rice or garlic quinoa.
Notes: You can actually bake these filets frozen. No need to even let them defrost if you don't have time, though you may want to add a few extra minutes onto the baking time.
Big Flavors Rating: 4 Stars