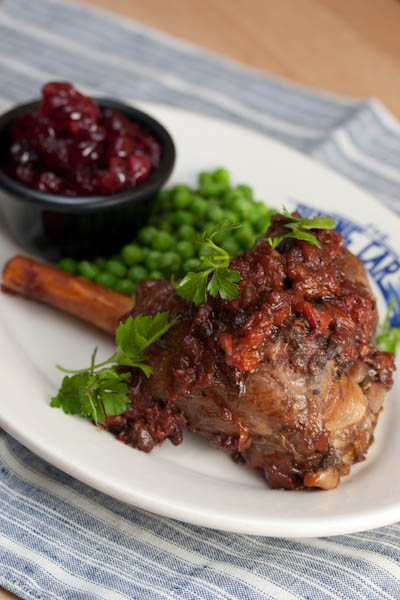 Lamb Shanks Braised with Tomato
This post may contain affiliate links. Thank you for supporting the brands that keep me creative in my tiny kitchen!
I've been wanting to make this lamb shank recipe again for a while now, and I finally got around to doing it. I cut the recipe in half, and it was awesome. This is a really easy recipe – it spends a lot of time on the stove top, but it's mostly unattended. The meat melts off of the bone…it's fantastic! This time around, I served it with some peas and Bourbon Cranberry Sauce.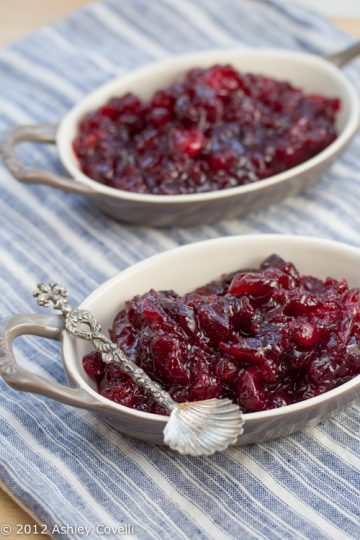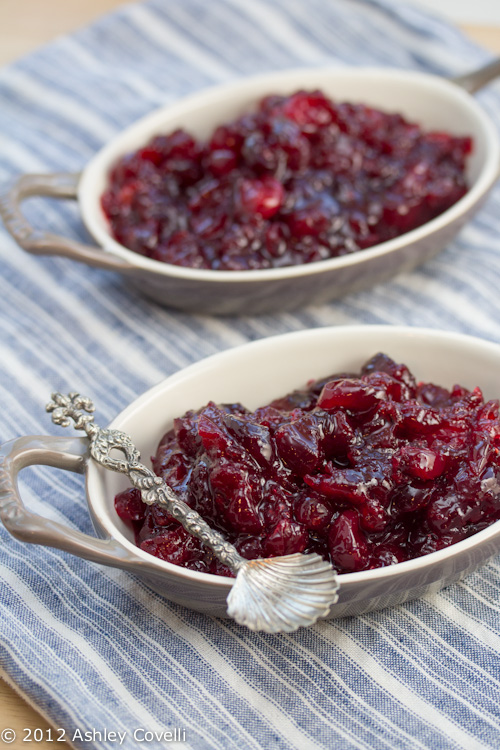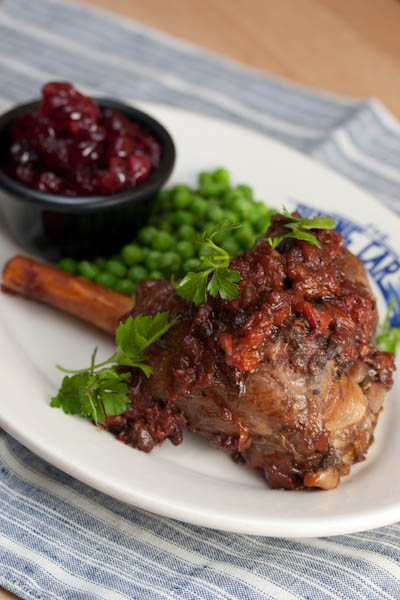 Lamb Shanks Braised with Tomato
Cooking Light December 2009
Meltingly tender shanks and their simple yet rich sauce make a hearty meal. Serve with polenta.
Yield: 4 servings (serving size: 1 shank and 3/4 cup sauce)
The 5 ingredients:
4 (12-ounce) lamb shanks, trimmed
4 garlic cloves, minced
3/4 cup dry red wine
2 (14.5-ounce) cans diced tomatoes with basil, garlic, and oregano
1/4 cup chopped fresh parsley
Heat a large Dutch oven over medium-high heat. Coat pan with cooking spray. Sprinkle lamb with 1/2 teaspoon salt and 1/4 teaspoon freshly ground black pepper. Add lamb to pan, and cook 4 minutes on each side or until browned. Remove from pan. Add garlic to pan; sauté 15 seconds. Add wine; cook 2 minutes, scraping pan to loosen browned bits. Stir in tomatoes; cook 2 minutes. Return lamb to pan. Cover, reduce heat, and simmer 1 hour. Turn lamb over; simmer 1 hour or until meat is done and very tender. Place lamb on a plate; cover loosely with foil. Skim fat from surface of the sauce. Bring to a boil; cook 10 minutes or until thickened. Return lamb to pan; cook 4 minutes or until lamb is thoroughly heated. Stir in parsley.
Nutritional Information
Calories: 254
Fat: 11.4g (sat 4.8g,mono 4.8g,poly 0.8g)
Protein: 25.9g
Carbohydrate: 11.7g
Fiber: 3.5g
Cholesterol: 89mg
Iron: 2.9mg
Sodium: 439mg
Calcium: 64mg
Big Flavors Rating: 5 Stars