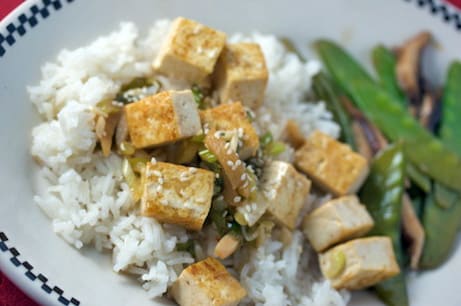 Korean-Inspired Sautéed Tofu
This post may contain affiliate links. Thank you for supporting the brands that keep me creative in my tiny kitchen!
I like that it's becoming easier and easier to find new tofu recipes. This one was good, but nothing too special. It is a little spicy, and the ginger pieces add a real punch. I couldn't find soft tofu, so I used firm. I served this with rice and some shiitakes and snow peas that I sautéed in teriyaki. It was a nice meal.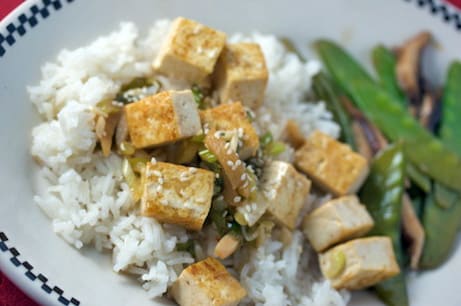 Korean-Inspired Sautéed Tofu
Cooking Light September 2009
Serve this as a first course for an Asian-themed meal, or make brown rice and steamed spinach to go with it for an entrée. Draining and pressing the tofu yields a crisp crust when pan-fried; it also helps the tofu absorb more flavor from the zesty pan sauce.
Yield 6 servings (serving size: about 1/2 cup)
2 tablespoons rice vinegar
2 tablespoons mirin (sweet rice wine)
1 tablespoon low-sodium soy sauce
1 teaspoon dark sesame oil
⅛ teaspoon kosher salt
¼ teaspoon ground red pepper, divided
1 (14-ounce) package water-packed soft tofu, drained
2 tablespoons canola oil, divided
1 ounce fresh ginger, peeled and julienne-cut
3 tablespoons diagonally sliced green onions
1 teaspoon minced fresh garlic
¼ teaspoon kosher salt
1 teaspoon sesame seeds
1. Combine vinegar, mirin, soy sauce, sesame oil, 1/8 teaspoon salt, and 1/8 teaspoon red pepper in a medium bowl; stir with a whisk.
2. Cut tofu crosswise into 8 (1/2-inch-thick) slices. Arrange tofu on several layers of paper towels. Top with several more layers of paper towels; top with a cast-iron skillet or other heavy pan. Let stand 30 minutes. Remove tofu from paper towels. Cut tofu into (1-inch) cubes. Sprinkle tofu with remaining 1/8 teaspoon red pepper.
3. Heat 1 tablespoon canola oil in a large nonstick skillet over medium-high heat. Add tofu to pan; sauté 8 minutes or until crisp, carefully turning to brown on all sides. Remove tofu from pan; keep warm. Heat remaining 1 tablespoon canola oil in pan. Add ginger and green onions to pan; sauté 30 seconds. Add garlic to pan; sauté 30 seconds or just until golden. Add ginger mixture to vinegar mixture; stir well. Pour vinegar mixture over tofu; sprinkle evenly with 1/4 teaspoon salt and sesame seeds.
Nutritional notes:
Calories: 128
Fat: 9.1g (sat 0.9g,mono 3.9g,poly 3.7g)
Protein: 6.3g
Carbohydrate: 4.9g
Fiber: 0.5g
Cholesterol: 0.0mg
Iron: 1.1mg
Sodium: 208mg
Calcium: 135mg
MacGourmet Rating: 3 Stars