This post may contain affiliate links, which won't change your price but will share some commission.
I love Korean food. I had been wanting to make a noodle bowl, and when the newest issue of Cooking Light came, they had a whole spread on noodle bowls! Woohoo! This Korean one caught my eye. I was planning on going to my favorite local Korean market anyway, so I figured I'd be able to find all of the ingredients, and I did! The naengmyun noodles were in the frozen noodle section of the store, and they only came in a 2.5 pound bag. So I bought it and used half of it for this recipe. I think they may have been already cooked, but I'm not sure. The way this recipe describes the texture is not at all what the texture was like of my noodles. Maybe I overcooked them? I'm not sure - everything I found online said to boil them for 3-4 minutes, so that's what I did (I couldn't read the directions on the package because they were in Korean). Regardless, these noodle bowls were great! They were a little awkward to eat, but we really enjoyed them. The sauce had wonderful depth of flavor, and the pickles were awesome. The store I went to had Korean pears, which looked like the Asian pears I've seen in my usual grocery store on steroids, so I got one of those. I have a bunch of Korean radish leftover, so I may make another batch of the pickles to snack on. Yum!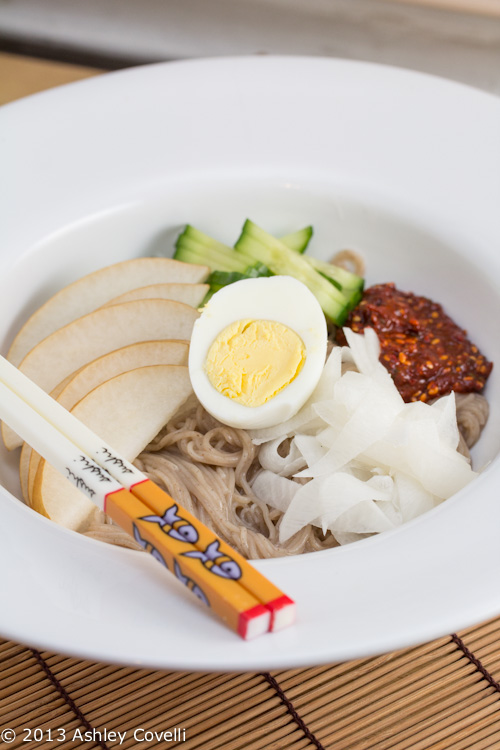 Korean Chilled Buckwheat Noodles with Chile Sauce (Bibim Naengmyun)
Cooking Light March 2013
This dish is most popular in the summer but delicious year-round. Korean naengmyun noodles are made from wheat and buckwheat and are wonderfully chewy; Japanese soba is an adequate substitute but lacks the chewy texture. Because of the noodles' firm texture, the dish comes to the table with scissors, and you are to snip a few times and then mix everything together after enjoying the initial presentation.
Sauce:
¼ cup chopped green onions
1 garlic clove, crushed
¼ cup gochujang (Korean chile paste, such as Annie Chun's)
2 tablespoons ground Korean chile (gochugaru) or ancho chile powder
1 tablespoon toasted sesame seeds
1 tablespoon rice vinegar
2 teaspoons sugar
1 ½ teaspoons lower-sodium soy sauce
1 teaspoon dark sesame oil
Pickles:
½ cup rice vinegar
2 teaspoons sugar
¼ teaspoon salt
1 cup Korean radish or daikon radish, cut into thin 1 ½ x ½-inch slices
Remaining ingredients:
10 ounce uncooked Korean naengmyun noodles or soba noodles
24 thin slices Asian pear
1 cup julienne-cut English cucumber
2 hard-cooked large eggs, chilled and cut in half lengthwise
1. To prepare sauce, place onions and garlic in a mini food processor; process until minced. Add gochujang and next 6 ingredients (through sesame oil); process until smooth. Cover and chill at least 2 hours.
2. To prepare pickles, combine ½ cup vinegar, 2 teaspoons sugar, and ¼ teaspoon salt in a 2-cup glass measuring cup. Microwave at HIGH for 2 minutes or until boiling. Place radish in a medium bowl; top with hot vinegar mixture. Cover and chill 2 hours; drain.
3. To prepare remaining ingredients, cook noodles according to package directions. Drain and rinse with cold water; drain. Arrange about 1 cup noodles in each of 4 bowls; top each serving with about 2 tablespoons sauce. In each bowl, arrange ¼ cup radish on one side of noodles and 6 pear slices on the other; arrange ¼ cup cucumber in middle. Top each with 1 egg half.
Big Flavors Rating: 4 Stars