This post may contain affiliate links, which won't change your price but will share some commission.
The last of the banchan that I made for my Korean BBQ Party was a version of kimchi that doesn't involve digging a hole in the backyard and burying it for months while it ferments. This version can be enjoyed in 2 hours if you need it in a hurry. We made it and let it sit in the fridge overnight. The flavor is really something that you can't describe - you just have to try it. I was surprised that it contained Asian pear when we made it in the cooking class. Korean hot red-pepper flakes are really spicy, so don't go too heavy handed with it unless you like it hot. In class, the instructor had us crush the sesame seeds with a mortar and pestle, so that's how we did it at home, too. She also told us that you can make pancakes with kimchi in them, so we may try that with some of the leftovers. Yum!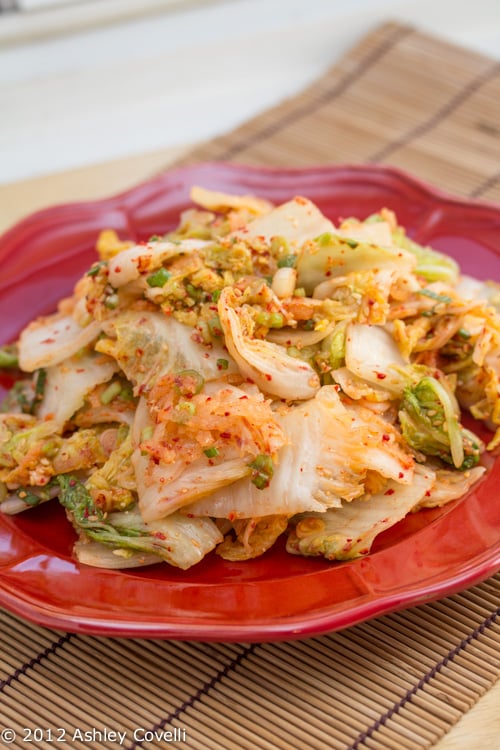 Quick Kimchi
Institute of Culinary Education
Adapted from The Korean Table - Taekyung Chung and Debra Samuels
Makes about 2 quarts
No Korean meal is complete without kimchi, a piquant condiment of fermented vegetables (most popularly cabbage) seasoned with ginger, garlic, chile, and all manner of fresh or preserved seafood. Fermenting the ingredients over several days gives the dish its distinctive tang, but this easy version, which takes advantage of the funky depth of Asian fish sauce, offers relatively instant gratification. Recipe by ICE Visiting Instructor Lillian Chou, published in Gourmet magazine, March 2009.
1 (3-pound) head Napa cabbage
2 tablespoons chopped garlic
1 tablespoon chopped peeled ginger
2 tablespoons Asian fish sauce
2 teaspoons distilled white vinegar
1 bunch scallions, chopped (about 1 cup)
3 tablespoons sesame seeds, toasted and crushed with side of heavy knife
2 to 3 tablespoons coarse Korean hot red-pepper flakes
½ (1-pound) Asian pear
1. Quarter cabbage lengthwise, then cut crosswise into 2-to 3-inch pieces. Toss with 3 tablespoons salt in a large bowl and let stand, tossing occasionally for 1 hour.
2. Rinse cabbage well, then drain. Squeeze out excess water with your hands and transfer to a large bowl.
3. Purée garlic and ginger with fish sauce and vinegar in a blender until smooth, then pour over cabbage. Add scallions, sesame seeds, and red-pepper flakes and toss to coat.
4. Peel pear, then grate on large holes of a box grater (avoid core and seeds). Add to cabbage mixture and toss well. Marinate at least 1 hour.
Note: Kimchi keeps, chilled in an airtight container, 1 month (flavor will get stronger).
Big Flavors Rating: 5 Stars