We have a fun weekend tradition with one of our good friends, and two of the key elements are that we MUST eat good food and we MUST watch bad movies. I hadn't made a Korean BBQ dinner for almost a year, and since that's one of our friend's absolute favorites, we thought we would surprise him with a homemade feast. This is one of the banchan (side dishes) that I learned to make in a class I took over at the Institute of Culinary Education last year. It's really easy to put together and goes great with the rest of the goodies.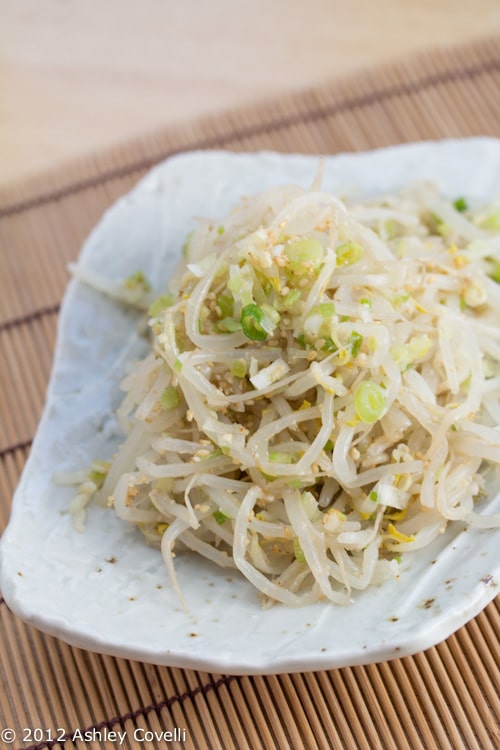 Kong Namul (Seasoned Bean Sprouts)
Institute of Culinary Education
Adapted from The Korean Table - Taekyung Chung and Debra Samuels
Yield: Makes 2 cups
In this namul soybean sprouts are steamed until almost all the water is evaporated, creating a tangle of crunch sprouts. Soybean sprouts - the traditional choice for this namul - must be cooked thoroughly before eating. If you are using mung bean sprouts, steaming for 2 minutes is plenty of time. It is important to dress them while warm for maximum absorption of the seasonings.
1 teaspoon salt
¾ pound soybean or mung bean sprouts
¼ cup minced green onion
1 tablespoon crushed roasted sesame seeds
1 tablespoon dark sesame oil
1. In a medium saucepan with a lid, combine ½ cup water, ½ teaspoon of the salt and the soy bean sprouts. Bring to a boil. Reduce to low heat, cover, and steam the sprouts for 8 to 10 minutes (or 2 minutes for mung bean sprouts).
2. Drain the sprouts and transfer to a serving bowl.
3. Mix the sprouts with the green onion, the remaining ½ teaspoon of salt, the crushed roasted sesame seeds and sesame oil.
This will keep for 2 days in the refrigerator.
Big Flavors Rating: 5 Stars