This post may contain affiliate links, which won't change your price but will share some commission.
I made kimchi a while back, and I wanted to try out making a kimchi pancake. When I took a Korean cooking class over the summer, the teacher told us that kimchi is often used in pancakes, and I was immediately intrigued. So I found this recipe - all I needed other than the kimchi and things that were in my pantry was an onion. I had trouble with it sticking to the pan, and it didn't look pretty at all, but it was really tasty!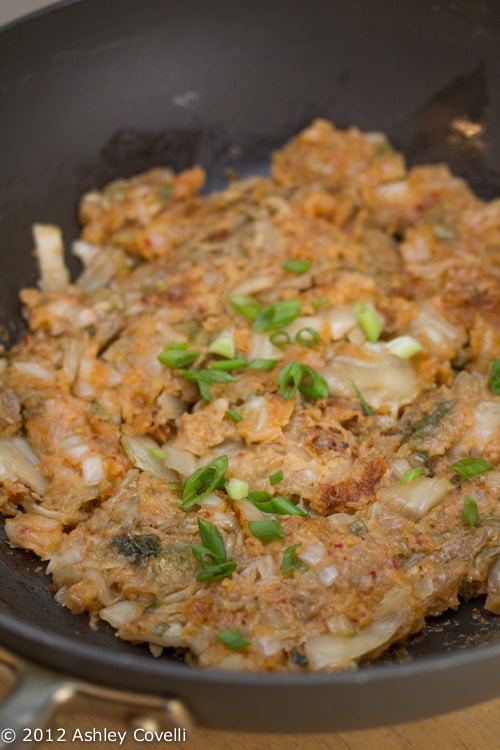 Kimchijeon (Kimchi Pancake)
Maangchi
Yield: 2 -4 servings
Ingredients:
Kimchi, onion, salt, sugar, flour, vegetable oil.
Directions:
In a bowl, place 1 cup of chopped kimchi, 3 tbs of kimchi juice, 2 tbs chopped onion, ½ ts salt, ½ ts sugar, ½ cup flour (all purpose flour), and ¼ cup of water and mix it well with a spoon.
Heat up a 12 inch non-stick pan over medium high heat and drizzle about 2 tbs grape seed oil.
Place the mixture of kimchi pancake batter on the pan and spread it thinly and evenly with a spoon.
Cook it for 1-1 ½ minutes until the bottom gets golden brown and crispy.
Turn it over with a spatula or flip it.
Lower the heat to medium and cook for another 1½ minutes.
Turn it over one more time and cook for 30 seconds before transfering it to a serving plate.
*tip: Serve it right out of the pan or cool it down and cut it into bite size to serve.
Big Flavors Rating: 4 Stars