This post may contain affiliate links, which won't change your price but will share some commission.
For the main course for our dinner party, I decided to try out this Irish stew. I don't cook with lamb too often, but whenever I do, the result is a nice, hearty, comforting meal. I chose to use some red new potatoes, and I didn't bother peeling them. It really made the stew prettier, and the flavor was great. My grocery store didn't have any lamb stew meat, so I bought about 2 pounds of leg steaks and cubed them. It worked out great – the meat was falling apart tender in an hour and a half, and the flavor was great. I served these with Cheesy Soda Scones which were perfect for sopping up the broth. The house smelled amazing while this was in the oven, and it was definitely worth the time it took for a big bowl of comfort food!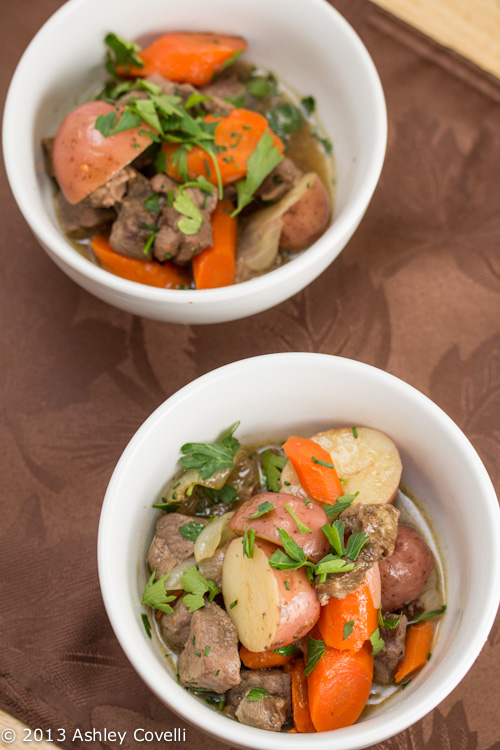 Irish Stew
Recipe Girl (adapted from Rachel's Irish Family Food – Rachel Allen)
Yield: 4 servings
Prep Time: 20 min Cook Time: 2 hours
Ingredients:
3 tablespoons extra-virgin olive oil
2 pounds lamb stew meat (see tips below)
3 large carrots, peeled and cut into thick slices
3 medium onions, peeled and cut into quarters
Kosher salt and freshly ground black pepper
2 cups lamb or chicken stock (broth)
8 medium white or red potatoes, peeled and halved
2 sprigs fresh thyme
1 tablespoon chopped fresh Italian parsley
1 tablespoon chopped chives
Directions:
1. Preheat the oven to 325 degrees F.
2. Heat the olive oil in a medium to large Dutch oven or flameproof casserole dish. Add the lamb to the hot oil and cook until browned on all sides (a few minutes). Remove the meat from the pan and set it aside. Add the carrots and onions to the pan- stir and cook for a few minutes, seasoning to taste with salt and pepper. Return the meat to the pot, add the broth and bring to a boil. Add the potatoes and season again with salt and pepper. Place thyme sprigs on top.
3. Cover and bake in the oven for 1 1/2 to 2 hours, until the meat is very tender. (see tips below for alternative step here) Add chopped herbs and serve.
Tips:
*The author suggests using 3 1/3 pounds lamb chops from the neck or shoulder, still on the bone (cut 3/4-inch thick). I chose to use stew meat instead.
*If your stew yields excess fat, you may wish to pour off the cooking liquid and allow it to sit for a few minutes until the fat floats to the top (author suggests adding an ice cube to speed up the process). Spoon off the fat and pour the juices back over the stew. NOTE: I didn't have a problem with excess fat using just lamb stew meat.
Big Flavors Rating: 4 Stars