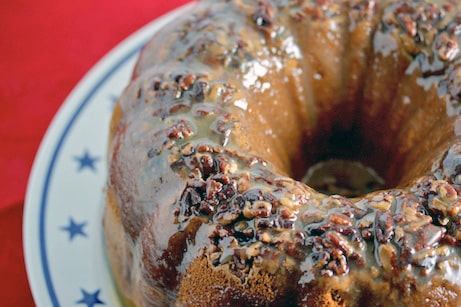 This post may contain affiliate links. Thank you for supporting the brands that keep me creative in my tiny kitchen!
After all of the cooking I did for the Supper Club yesterday, I wanted to make an easy dessert to bring over to my in-laws' house for Easter dinner. This recipe really fit the bill – it was really rich and tasty, and everyone loved it! I'll definitely be making it again! I just drizzled the glaze over the top after poking holes in the cake – it was too sticky to brush on. Yum!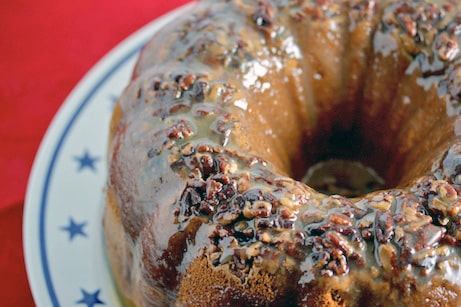 Irish Cream Bundt Cake
allrecipes.com – Sue Haser
"Great tasting glazed Bundt cake with Irish cream baked in. Excellent for any time or any occasion."
PREP TIME 15 Min
COOK TIME 1 Hr
READY IN 1 Hr 30 Min
Original recipe yield 1 – 10 inch Bundt pan
1 cup chopped pecans
1 (18.25 ounce) package yellow cake mix
1 (3.4 ounce) package instant vanilla pudding mix
4 eggs
¼ cup water
½ cup vegetable oil
¾ cup Irish cream liqueur
½ cup butter
¼ cup water
1 cup white sugar
¼ cup Irish cream liqueur
1. Preheat oven to 325 degrees F (165 degrees C). Grease and flour a 10 inch Bundt pan. Sprinkle chopped nuts evenly over bottom of pan.
2. In a large bowl, combine cake mix and pudding mix. Mix in eggs, 1/4 cup water, 1/2 cup oil and 3/4 cup Irish cream liqueur. Beat for 5 minutes at high speed. Pour batter over nuts in pan.
3. Bake in the preheated oven for 60 minutes, or until a toothpick inserted into the cake comes out clean. Cool for 10 minutes in the pan, then invert onto the serving dish. Prick top and sides of cake. Spoon glaze over top and brush onto sides of cake. Allow to absorb glaze repeat until all glaze is used up.
4. To make the glaze: In a saucepan, combine butter, 1/4 cup water and 1 cup sugar. Bring to a boil and continue boiling for 5 minutes, stirring constantly. Remove from heat and stir in 1/4 cup Irish cream.
MacGourmet Rating: 5 Stars