This post may contain affiliate links, which won't change your price but will share some commission.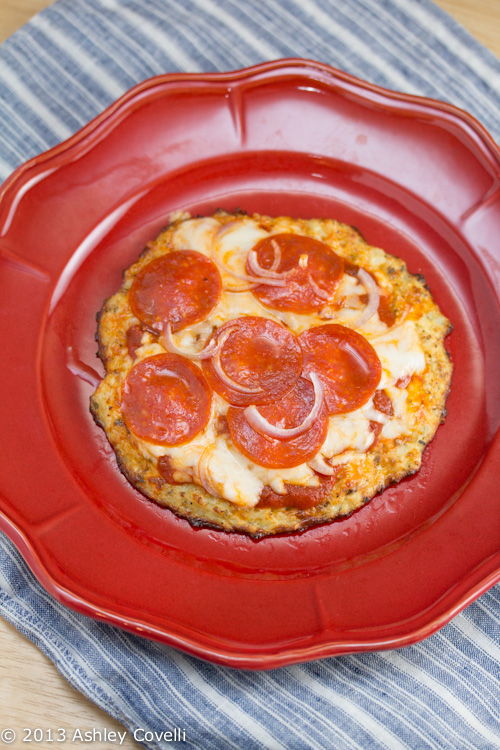 I had made The Astonishing Cauliflower Pizza Crust a while back, and I absolutely loved it, but had a lot of trouble getting the middle of the pizza crust to bake through. I think that part of the problem was that the pizza was too big. I decided to change up the spices in the crust and make them into smaller, individual sized pizzas, and the results were much better!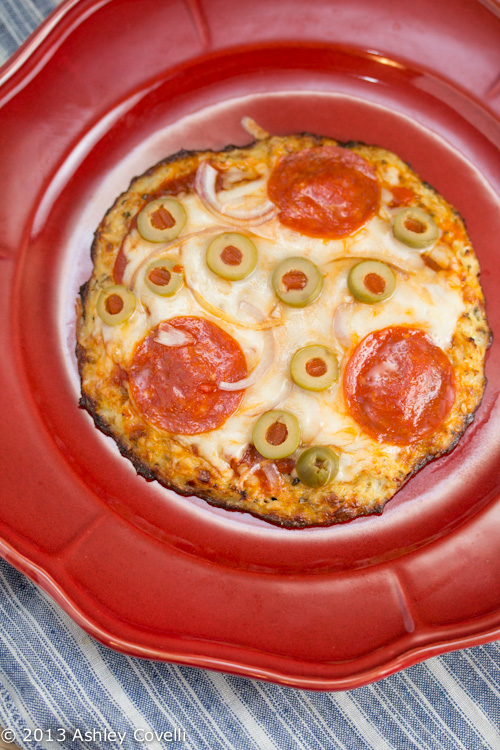 Individual Pizzas with Cauliflower Crust
Ashley Covelli (inspired by this recipe)
Makes 2 individual, 5-inch pizzas
1 head cauliflower
1 cup shredded mozzarella cheese (plus extra, for topping the pizzas)
1 egg, beaten
1 clove garlic, minced
pinch of red pepper flakes
¾ teaspoon dried oregano
½ teaspoon dried parsley
½ teaspoon dried basil
½ teaspoon kosher salt
freshly ground black pepper, to taste
pizza sauce
pizza toppings of choice (mushrooms, onions, pepperoni, bell peppers, etc.)
Clean the cauliflower and cut into florets. In a food processor, pulse the florets in batches until it looks like grain, being careful not to purée. Place the processed cauliflower into a microwave safe bowl and microwave for 8 minutes. One head of cauliflower should provide you with enough to make 4-6 individual pizzas.
Preheat oven to 450°F. Line a baking sheet with a Silpat, or spray with non-stick spray.
In a bowl, combine 1 cup cauliflower, egg, garlic, red pepper flakes, oregano, parsley, basil, salt and pepper. Mix until it forms a dough. Place half of the dough on one end of the prepared baking sheet and pat it into a 5-inch round. Repeat with remaining dough on the other end of the baking sheet.
Bake for 15 minutes, or until golden brown. Let the crusts cool for a few minutes before topping them. While they are cooling, preheat your broiler to high.
Once the crusts have cooled, remove the Silpat (if using) and place the crusts back on the baking sheet. Top each crust with sauce, mozzarella and toppings. Broil for a few minutes, until the cheese is golden brown. Note that if you're using toppings that need to be fully cooked (like sausage), you'll need to cook them prior to adding them to the top of the pizza.
Enjoy!
Big Flavors Rating: 5 Stars