This post may contain affiliate links, which won't change your price but will share some commission.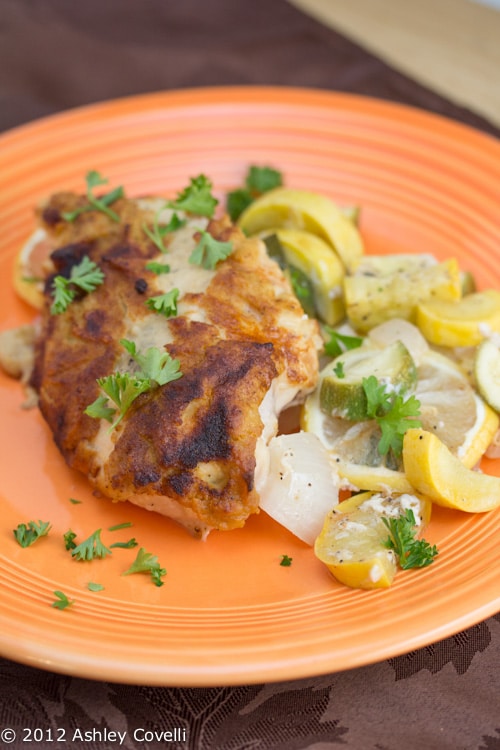 I think it's easier to give an amount of juice for something like a lemon - since lemons vary in size and juciness - than just a number of lemons. Bah. Anyway, this is an interesting method, and the chicken was very tender. It was really easy to put together, too, which is a big plus on a Monday night.
Hummus-Crusted Chicken
Gimme Some Oven
Prep Time: 10 minutes
Cook Time: 25 minutes
Total Time: 35 minutes
Yield: 4 Servings
Hummus serves as the perfect sauce in this easy baked chicken dish!
4 boneless, skinless chicken breasts
salt and pepper
1 zucchini, chopped
1 yellow squash, chopped
1 medium onion, chopped
1 cup hummus, homemade or storebought
1 Tbsp. olive oil
2 lemons
1 tsp. smoked paprika or sumac
Preheat oven to 450 degrees. Prepare one large baking dish or two smaller baking dishes with cooking spray.
Season the chicken breasts with generous pinches of salt and pepper. In a large bowl, toss the zucchini, squash and onion with olive oil until evenly coated. Season with salt and pepper.
If using one baking dish, place all of the vegetables on the bottom of the dish in an even layer. Lay the four chicken breasts evenly on top, then cover each chicken breast with the hummus so that the entire breast is covered. Squeeze the juice of one lemon over the chicken and vegetables. Then sprinkle the pan with smoked paprika or sumac. Thinly slice the remaining lemon, and place the slices in between the chicken and vegetables if desired.
**If using two pans, use one for the chicken and one for the vegetables.**
Bake for about 25-30 minutes, until the chicken is cooked through and the vegetables are tender. Serve immediately.
Big Flavors Rating: 3 Stars