This post may contain affiliate links, which won't change your price but will share some commission.
When I was a kid, my mom and I used to frequent a local Chinese restaurant for lunch. We always split an order of sweet and sour chicken, and she always got a bowl of hot and sour soup as an appetizer. I remember thinking all the little straw and enoki mushrooms floating in it were super cute.
Until a few years ago, I had a very low tolerance for spicy foods, but I've been working my way up the Scoville scale.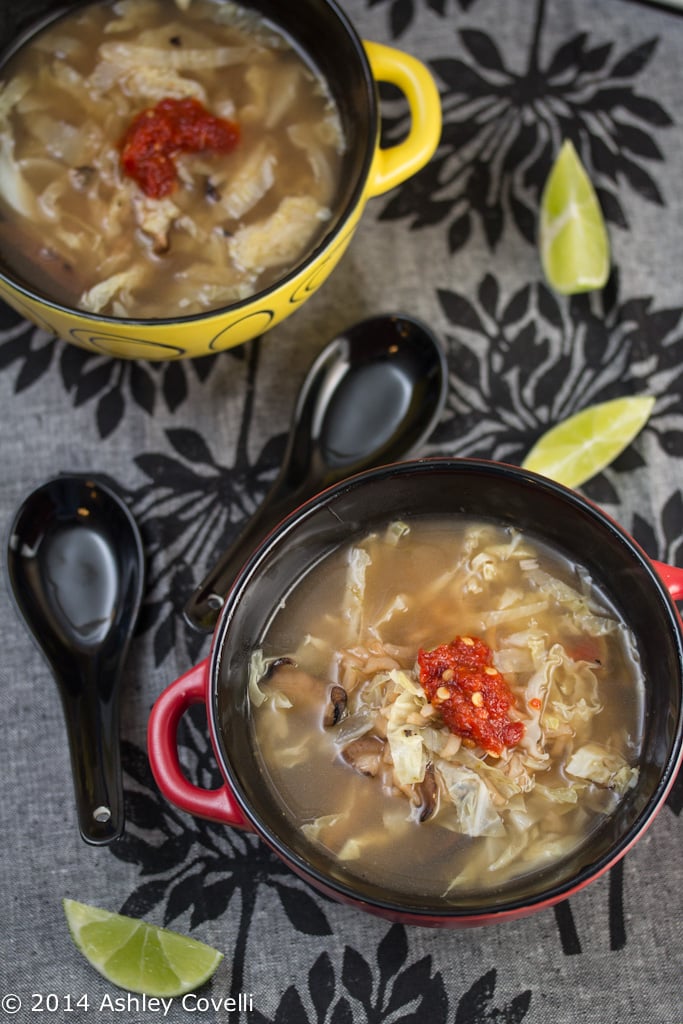 I found this recipe and thought it looked like a great way to use some of my homemade Slow Cooker Vegetable Stock. I only used one jalapeño, and it was plenty spicy.
I thought the addition of cabbage sounded like a good thing, but unfortunately, my husband seriously disliked it. As in took a few bites and decided not to eat it. He thought it tasted too cabbage-y. And he likes cabbage, so… yeah.
I thought the soup was fine, but it's kind of hard to enjoy after all the hubbub. Meh. So while this is a decent soup, I guess it is leans too far on the cabbage scale for my house. Ah well - the search for a great hot and sour soup continues! Maybe I need to find one that utilizes cuter mushrooms 😉
Hot and Sour Mushroom, Cabbage, and Rice Soup
The Kitchn
Makes eight to ten 1-cup servings
1 tablespoon canola oil
4 ounces cremini or shiitake mushroom caps, thinly sliced
1 to 3 jalapeno peppers, finely diced
6 cloves garlic, minced
One 3-inch lump ginger, grated (or 1 tablespoon ginger puree)
1 to 3 limes, zested and juiced
8 cups broth — turkey, chicken, or vegetable
½ cup jasmine rice
2 tablespoons soy sauce*, plus more to serve
½ small head green cabbage, cut in half and shaved thin
Chili garlic sauce or kimchi, to serve
Heat the oil in a large heavy pot or Dutch oven over medium-high heat. Add the mushrooms and cook for 5 minutes without stirring. Toss the mushrooms after 5 minutes and cook for an additional 5 minutes, or until well-browned. Add the diced peppers, garlic, and ginger and cook for about five minutes or until fragrant and slightly softened.
Add the lime zest and broth and bring to a simmer. Add the rice, cover, and simmer for about 20 minutes or until the rice is just barely soft. Add the shaved cabbage, lime juice, and soy sauce to taste and simmer for another few minutes or until cabbage is hot.
Serve with extra soy sauce, lime wedges, and kimchi or chili garlic sauce.
*Optional: use Gluten-Free
Big Flavors Rating: 3 Stars