This post may contain affiliate links, which won't change your price but will share some commission.
This is another one of the recipes from the current issue of Cooking Light. It looked like a nice, quick and fresh meal to put together on a busy day, and it was! I ended up not having enough chicken in the freezer, so I picked up some chicken tenders from the store - that way I didn't even have to bother cutting them up and skewering them. I really liked the flavor of the lime zest directly on the chicken, and there was just enough garlic and chili powder to make it interesting. The mangoes and bell peppers went were the perfect addition on the side. I also sautéed some frozen potato and onion pierogis, and topped them with a dollop of sour cream. It was a very good meal, and pretty easy to pull off on a busy day!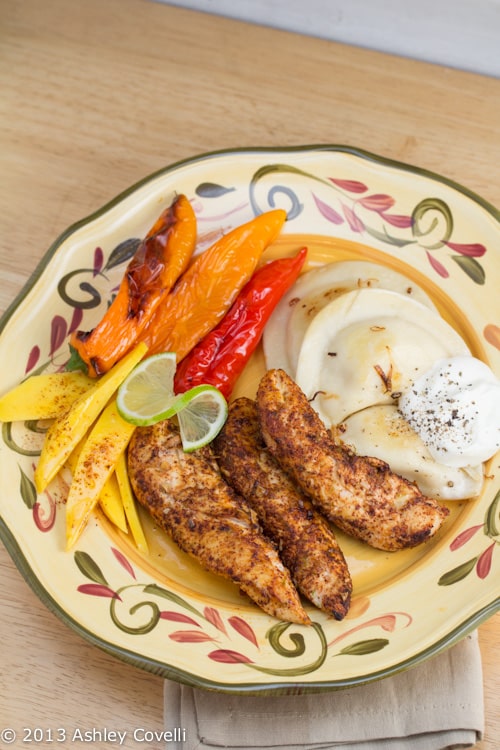 Honey-Lime Chicken Kebabs with Mango Slices
Cooking Light June 2013
For a colorful accompaniment, add mini bell peppers to the broiler pan with the skewers.
Yield: Serves 4 (serving size: 2 kebabs and 1 sliced mango half)
1 pound skinless, boneless chicken breast, cut into 1-inch cubes
2 teaspoons grated lime rind
2 teaspoons minced garlic
1 teaspoon chili powder
¼ teaspoon kosher salt
Cooking spray
2 tablespoons fresh lime juice
1 tablespoon honey
2 sliced peeled mangoes
Chili powder (optional)
Preparation
1. Preheat broiler to high.
2. Combine first 5 ingredients; toss to coat. Thread chicken onto 8 (6-inch) skewers. Place kebabs on a broiler pan coated with cooking spray; broil 4 minutes on each side or until done.
3. Combine juice and honey in a small bowl; stir with a whisk. Arrange kebabs and mango slices on a platter; drizzle with honey mixture, and sprinkle with chili powder, if desired.
Amount per serving
Calories: 254
Fat: 3.8g
Saturated fat: 0.8g
Monounsaturated fat: 1.1g
Polyunsaturated fat: 0.6g
Protein: 25.7g
Carbohydrate: 30.9g
Fiber: 2.9g
Cholesterol: 73mg
Iron: 0.9mg
Sodium: 265mg
Calcium: 30mg
Big Flavors Rating: 4 Stars