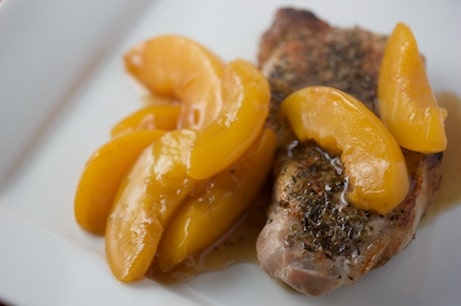 Herb Rubbed Pork Chops with Peach Sauce
This post may contain affiliate links. Thank you for supporting the brands that keep me creative in my tiny kitchen!
This is one of the most repeated recipes in my house. The sweet sauce is great with the spicy herb rub. We love it! It's easy and delicious for a weeknight meal.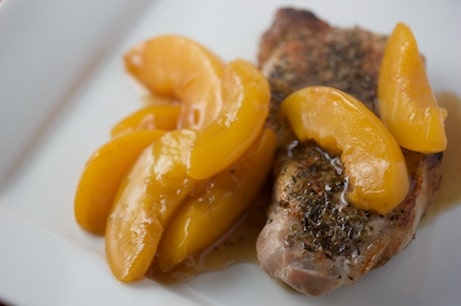 Herb Rubbed Pork Chops with Peach Sauce
McCormick
1 teaspoon McCormick marjoram leaves
1 teaspoon McCormick thyme leaves
1 teaspoon McCormick garlic powder
¼ teaspoon McCormick ground red pepper
1 pound boneless lean pork chops, trimmed
*** for peach sauce ***
2 tablespoons brown sugar
2 teaspoons cider vinegar
1 teaspoon sherry wine
½ teaspoon corn starch
¼ teaspoon McCormick ground cinnamon
1 can (16 ounces) juice-packed, sliced peaches, drained
1. Combine marjoram, thyme, garlic, and red pepper. Rub on both sides of pork chops. Broil on high, 4 minutes per side, or grill 3 minutes per side. Cover with foil to keep warm.
2. To prepare the peach sauce, combine cornstarch, brown sugar, vinegar, sherry, and cinnamon. Bring to a low boil; simmer 5 minutes. Add peaches and simmer an additional 3 minutes.
3. Top pork with warm peach sauce to serve.
Nutritional notes:
Calories: 308, Fat: 8 g, Cholesterol: 104 mg, Sodium: 86 mg, Carbohydrates: 23 g, Fiber: 1 g, Protein: 36 g
MacGourmet Rating: 5 Stars