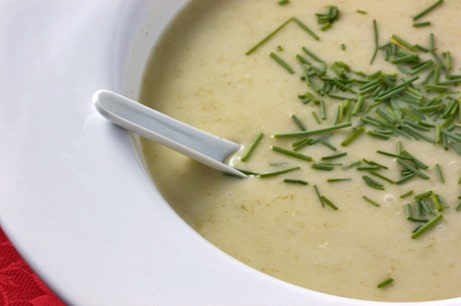 Happy Birthday, Julia! Chilled Leek and Potato Soup: Vichyssoise
This post may contain affiliate links. Thank you for supporting the brands that keep me creative in my tiny kitchen!
For Julia Child's birthday, food bloggers all over are celebrating by making some of her wonderful recipes in her honor. I wanted to try out one of her most simple recipes – Vichyssoise. It's funny because I can never hear that word without hearing her voice pronouncing it in my head. I used to watch her cooking show with my grandparents all the time, and then when I got a little older, I'd watch her cook on other shows like Julia and Jacques. It was so inspiring to see her having so much fun in the kitchen!
This recipe is really simple and has a lot of flavor for so few ingredients. The one thing I noticed is that it doesn't tell you when to add the dairy – so I just added it at the end in the blender. Make sure you season it well, and if you really want to make it shine, add a bit of topper oil and some freshly cracked pepper at the end. This is a nice refreshing summertime soup.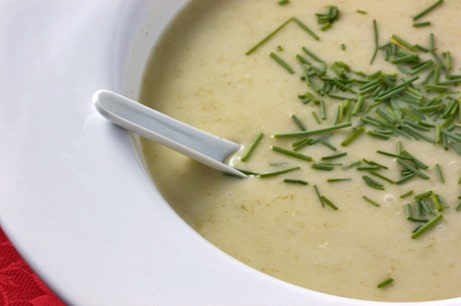 Chilled Leek and Potato Soup: Vichyssoise
The Way to Cook – Julia Child
Yield: 6-8 servings, about 2 1/2 quarts
"Here is the mother of the family in all her simplicity. You'll note there's no chicken stock here, just water, leeks, potatoes, and salt in the soup base. However, you may include chicken stock if you wish, and you may certainly include milk. A bit of cream at the end is a nourishing touch, but by no means necessary."
Note: If you are not puréeing the soup, cut the vegetables rather neatly.
4 cups sliced leeks, white part only
4 cups diced potatoes, old or baking potatoes recommended
6 to 7 cups water
1 ½ to 2 teaspoons salt or to taste
½ cup or more sour cream, heavy cream, or crème fraîche, optional
1 Tablespoon fresh chives or parsley, minced
Special Equipment Suggested : A heavy-bottomed 3-quart saucepan with cover
Simmering the soup . Bring the leeks, potatoes and water to the boil in the saucepan. Salt lightly, cover partially, and simmer 20-30 minutes, or until the vegetables are tender. Purée the soup if you wish. Taste, and correct seasoning. After chilling the soup, you may wish to stir in a little more cream. Taste carefully again, and correct the seasoning. Top each serving with a sprinkle of chives or parsley.
MacGourmet Rating: 4 Stars