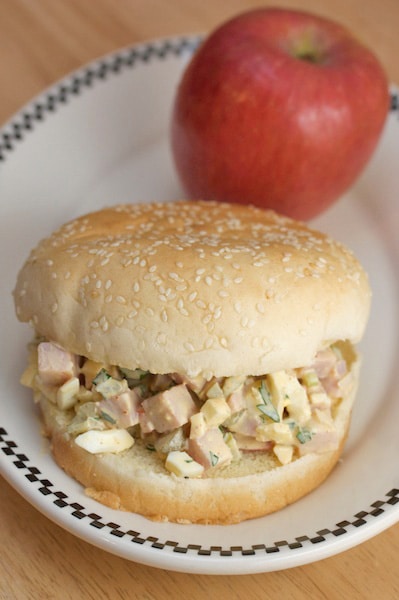 This post may contain affiliate links, which won't change your price but will share some commission.
I saw this post over at Simply Recipes, and immediately knew that I needed to make it…TODAY! I didn't grow up with ham salad, so making this was the first time I tried it. I really liked it! The heat from the cayenne is a wonderful addition! This salad tastes fresh and healthy. The only problem I ran into was that I had no idea how much ham would make 2 cups when I went to the deli counter. I severely overestimated, so now we have a bunch of ham in the freezer. I'd say about 3/4 lb. is probably plenty. Anyway, this sandwich recipe is great – I'll definitely make it again!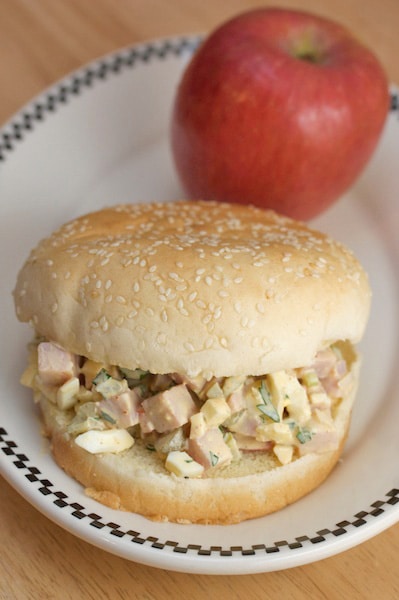 Ham Salad
Simply Recipes
2 cups finely diced ham
3 hard-boiled eggs, chopped
1/4 cup sweet pickle relish
1/4 cup mayonnaise
2 Tbsp minced onion
2 Tbsp minced celery
2 Tbsp minced red bell pepper
1 Tbsp chopped fresh parsley
2 Tsp Dijon mustard
1 Tbsp lemon juice
A large pinch of cayenne (optional)
Salt and black pepper to taste
Mix everything but the salt, pepper and cayenne in a large bowl. Taste and add cayenne, salt and black pepper to taste. Serve chilled.
Serve straight, or mixed in with macaroni, or in a sandwich in a hamburger bun, a Kaiser roll, regular bread, in a pita or as a wrap. Good with lemonade on a hot day.
Makes enough for 3 to 4 sandwiches.
MacGourmet Rating: 4 Stars