This post may contain affiliate links, which won't change your price but will share some commission.
I wanted to make something relatively quick for dinner tonight. This recipe looked promising - a quick marinade in a spiced yogurt, then throw it on the grill. It was easy and definitely fit the bill for tonight, but didn't have as much flavor as I had hoped. I'm a sucker for yogurt and cucumbers together, and it was a nice side, but again, nothing that really wowed us. On the plus side, my toddler really enjoyed this. This definitely has potential, but I think it needs some garlic or something else to make it really shine. I served it with lemon wedges, and we squeezed them over the meat before diving in, which helped it out a lot. I didn't fire up the outdoor grill, but opted to use my cast iron grill pan instead, and it worked out great.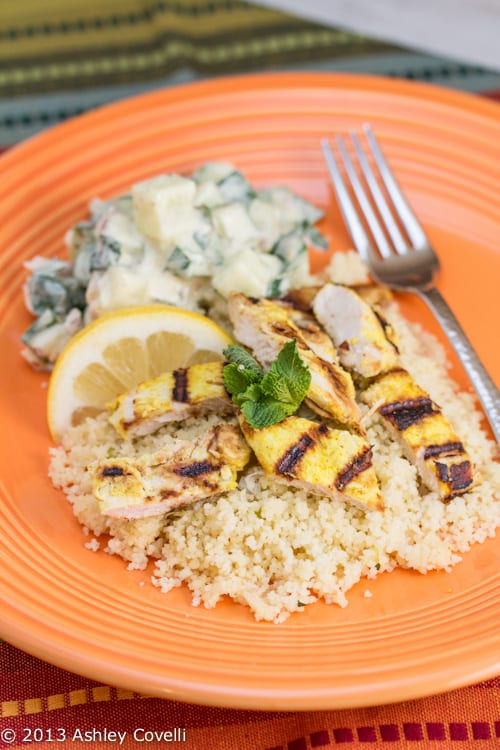 Grilled Yogurt Chicken with Cucumber Salad
Sunset April 2010
Yield: Serves 4
4 boned, skinned chicken breast halves (about 1 ½ lbs.)
1 ¼ cups plain whole-milk yogurt
1 ¼ teaspoons ground cumin
1 teaspoon fresh lemon juice
About ¾ tsp. kosher salt
½ teaspoon red chile flakes
¼ teaspoon ground turmeric
About 1 tbsp. vegetable oil
1 English cucumber, cut into ¼-in. dice
2 tablespoons minced shallot (1 medium)
¼ cup chopped fresh mint leaves
Freshly ground black pepper
1. Rinse chicken and pat dry. Trim any fat and remove the tender from each breast (reserve for another use). Working 2 at a time, arrange chicken between layers of plastic wrap. With a meat mallet or rolling pin, pound meat to an even thickness of ¼ in.
2. Prepare a grill for direct high heat (about 500°; you can hold your hand 5 in. above cooking grate only 2 to 3 seconds). If using charcoal, spread half-lit coals in firegrate, top with cooking grate to preheat, and let heat build to high.
3. In a medium bowl, combine yogurt, cumin, lemon juice, ¾ tsp. salt, the chile flakes, and turmeric. Set aside ½ cup yogurt mixture. Add chicken to bowl, flip to coat on both sides, and let sit at room temperature 10 minutes. Transfer chicken to a plate, wiping off excess marinade; rub lightly with oil on both sides.
4. Using metal tongs, wipe cooking grate with oiled paper towels. Grill chicken, covered, 3 to 4 minutes. Turn over, cover, and cook 2 to 3 minutes more. Transfer to a clean plate and season with salt.
5. In a serving bowl, combine cucumber, shallot, mint, reserved ½ cup yogurt mixture, and salt and pepper to taste. Serve chicken with cucumber salad.
Amount per serving
Calories: 245
Calories from fat: 22%
Protein: 39g
Fat: 6.3g
Saturated fat: 1.9g
Carbohydrate: 6.2g
Fiber: 1.1g
Sodium: 383mg
Cholesterol: 98mg
Big Flavors Rating: 3 Stars