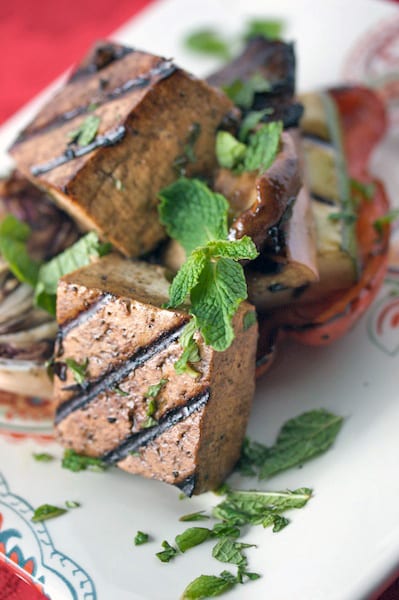 Grilled Veggie and Tofu Stack with Balsamic and Mint
This post may contain affiliate links. Thank you for supporting the brands that keep me creative in my tiny kitchen!
This is a really nice, vegetarian meal. The quick marinade imparts a lot of flavor into the veggies and tofu. It was my first time working with Japanese eggplant, which I ended up liking a lot. I made everything on a small grill pan, working in batches. The flavor of the grilled mushrooms was unbelievable! The mint gave everything a nice freshness, and the only thing I'd change next time is to leave out the radicchio, as it's way too bitter for me to enjoy. I served this with some mashed parsnips and it helped make this a really filling dinner – usually tofu recipes that serve 4 really serve 2, but this was substantial enough to actually feed 4 people.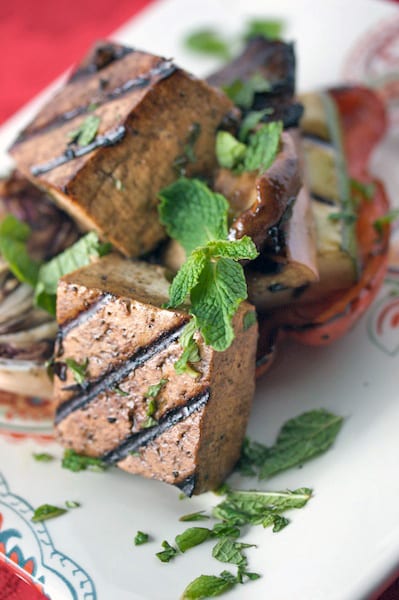 Grilled Veggie and Tofu Stack with Balsamic and Mint
Bon Appétit June 2009
1/3 cup balsamic vinegar
2 garlic cloves, minced
2/3 cup olive oil
1/3 cup thinly sliced fresh mint leaves plus sprigs for garnish
1 12-ounce container extra-firm tofu, cut crosswise into 8 slices, drained on paper towels
1 zucchini, trimmed, cut lengthwise into four 4-inch-long slices
1 red bell pepper, rounded ends trimmed, seeded, cut lengthwise into 4 pieces
1 Japanese eggplant, trimmed, cut lengthwise into four 4-inch-long slices
4 3-inch-diameter portobello or shiitake mushrooms, stems removed
1 small head of radicchio, quartered through root end
Prepare barbecue (medium-high heat).
Place vinegar and minced garlic in large bowl. Gradually whisk in olive oil. Stir in sliced mint. Season marinade to taste with salt and pepper.
Working in batches, add tofu to marinade and turn to coat. Transfer tofu to baking sheet and sprinkle with salt and pepper. Add zucchini, bell pepper, eggplant, mushrooms, and radicchio to marinade in bowl and toss to coat.
Place zucchini, pepper, eggplant, and mushrooms on grill. Sprinkle with salt and pepper. Cook until charred and softened, turning occasionally, about 6 minutes. Transfer to baking sheet. Place tofu and radicchio on grill. Cook until tofu is charred
and radicchio is charred and wilted, about 2 minutes per side.
Stack tofu and vegetables on plates. Garnish with mint sprigs and serve.
MacGourmet Rating: 4 Stars