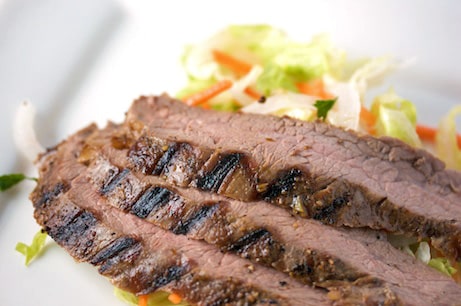 Grilled Steak & Sweet Lime Salad
This post may contain affiliate links. Thank you for supporting the brands that keep me creative in my tiny kitchen!
This was a good meal, but nothing special. I added the jalapeno as suggested and it added some nice spiciness to the dressing.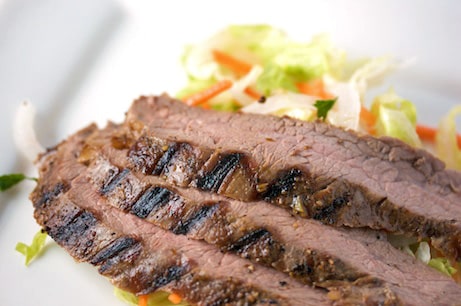 Grilled Steak & Sweet Lime Salad
Every Day with Rachael Ray
Serve with toasted baguette slices.
4 Servings
Prep 10 min (plus marinating)
Cook 15 min
Grated peel of 1 lime, plus 3 tablespoons lime juice
1 clove garlic, finely chopped
1 tablespoon sugar
¼ cup vegetable oil
Salt and pepper
1 lb. flank steak
½ onion, thinly sliced
½ head iceberg lettuce, shredded
One 6-ounce package shredded carrots
¼ cup mint leaves, thinly sliced
Tip: Hot stuff – Add 1 finely chopped jalapeño chile to the lime dressing.
1. In a small bowl, whisk together the lime peel, lime juice, garlic and sugar; whisk in the oil and season with salt and pepper. Place the steak in an 8-inch square baking dish and drizzle with 1/4 cup of the lime dressing. Turn to coat, then let marinate for 15 minutes.
2. Preheat the grill to medium-high. Season the steak with salt and pepper and grill for 6 minutes on each side for medium-rare. Let stand for 10 minutes, then thinly slice.
3. Meanwhile, in a large salad bowl, combine the remaining dressing and the onion. Add the steak, lettuce, carrots and mint; season with salt and pepper and toss.
MacGourmet Rating: 3 Stars