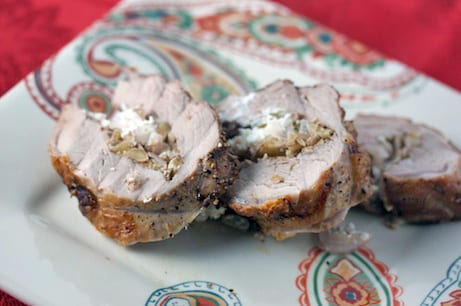 Grilled Pork Tenderloin Roulade
This post may contain affiliate links. Thank you for supporting the brands that keep me creative in my tiny kitchen!
This dish turned out OK, but it was nothing special. We weren't sure if the ingredients worked well together. I did overcook the pork a bit, but that didn't really factor too much in why it wasn't a successful dish. I wouldn't make this again.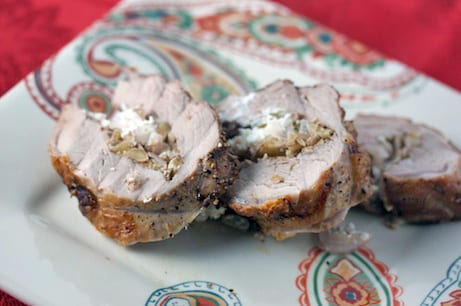 Grilled Pork Tenderloin Roulade
Cooking Light September 2009
Searing gives the pork a pleasant char, acting almost like an extra ingredient. The filling is adaptable; substitute fresh rosemary for thyme, if you prefer.
Yield 4 servings (serving size: 2 slices)
1 (1-pound) pork tenderloin, trimmed
¼ cup chopped shallots
¼ cup crumbled goat cheese
3 tablespoons chopped walnuts, toasted
2 teaspoons chopped fresh thyme
Prepare grill to medium heat. Slice tenderloin lengthwise, cutting to, but not through, other side. Open halves, laying tenderloin flat. Place tenderloin between 2 sheets of plastic wrap; pound to 1/2-inch thickness using a meat mallet or heavy skillet. Sprinkle shallots, cheese, walnuts, and thyme on tenderloin. Roll up, starting with long side; secure pork at 1-inch intervals with twine. Sprinkle with 1/4 teaspoon salt and 1/4 teaspoon black pepper. Place pork on grill rack coated with cooking spray. Grill for 27 minutes or until a thermometer registers 155°, turning after 13 minutes. Remove from grill; lightly cover with foil. Let stand for 10 minutes; cut crosswise into 8 slices.
Nutritional notes:
Calories: 206
Fat: 9.6g (sat 3.1g,mono 2.7g,poly 3.1g)
Protein: 26.5g
Carbohydrate: 2.8g
Fiber: 0.5g
Cholesterol: 79mg
Iron: 1.9mg
Sodium: 242mg
Calcium: 38mg
MacGourmet Rating: 3 Stars