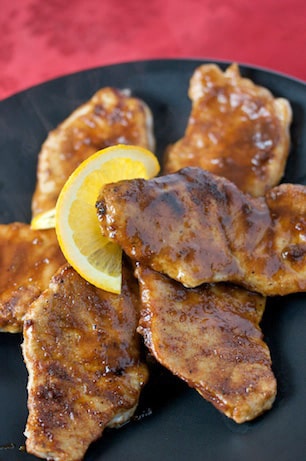 Grilled Pork Chops with Maple-Cranberry Glaze
This post may contain affiliate links. Thank you for supporting the brands that keep me creative in my tiny kitchen!
This dish was good, but I thought that the spice rub was too salty. I only used 2 teaspoons of rub per chop because I had a feeling it would be overpowering, and it was. It could have used about half that amount. And it makes a TON of glaze. I think this one has potential, but I won't be making it again.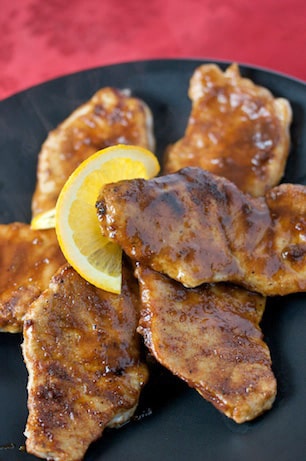 Grilled Pork Chops with Maple-Cranberry Glaze
Bon Appétit July 2006
Spice rub
1 tablespoon sugar
1 tablespoon hot smoked paprika (Pimentón de la Vera)*
2 teaspoons seasoned salt
2 teaspoons dry mustard
2 teaspoons fine sea salt
2 teaspoons celery salt
2 teaspoons garlic salt
2 teaspoons ground black pepper
1 teaspoon onion powder
1 teaspoon ground chipotle chile powder or ancho chile powder
Glaze
¾ cup jellied cranberry sauce (about half of one 16-ounce can)
½ cup pure maple syrup
¼ cup cran-raspberry juice
2 tablespoons Dijon mustard
1 tablespoon triple sec or other orange liqueur
1 ½ teaspoons grated orange peel
¼ teaspoon fine sea salt
¼ teaspoon ground black pepper
Nonstick vegetable oil spray
8 3/4-inch-thick center-cut pork rib chops
For spice rub:
Mix all ingredients in small bowl.
For glaze:
Mix first 8 ingredients in small saucepan. Bring to boil over medium heat, whisking until smooth. Cool to room temperature.
Do ahead: Spice rub and glaze can be made 1 day ahead. Cover and store spice rub at room temperature. Cover and refrigerate glaze. Rewarm glaze just until pourable before using.
Spray grill rack with nonstick spray and prepare barbecue (medium heat). Sprinkle spice rub generously over both sides of pork chops (about 1/2 tablespoon per side), pressing to adhere. Place pork chops on grill, cover, and cook 5 minutes per side. Brush generously with glaze. Move to cooler part of grill and continue to grill, uncovered, until cooked through, brushing frequently with glaze, about 3 minutes longer per side.
MacGourmet Rating: 3 Stars