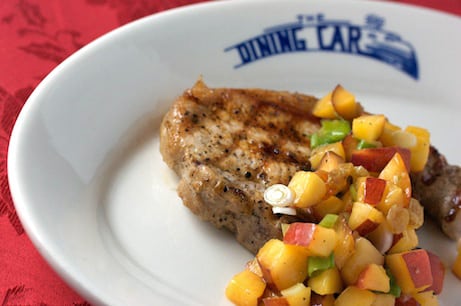 Grilled Pork Chops with Ginger-Nectarine Salsa
This post may contain affiliate links. Thank you for supporting the brands that keep me creative in my tiny kitchen!
I saw this recipe in the current issue of Cooking Light and knew it was going to be great. I ended up making it a few days later than I had originally planned on, so the fruit got extra ripe and delicious. I grilled some bone-in pork chops on my cast iron grill pan – simply seasoned with salt and pepper and a drizzle of olive oil. This salsa on top was a super refreshing and delicious counterpart to the moist pork. I'll definitely be making this again and again!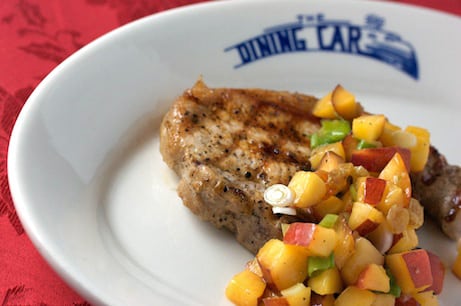 Ginger-Nectarine Salsa
Cooking Light August 2009
Ginger adds a piquant note to sweet nectarines. Serve with grilled pork, chicken, or salmon. This salsa keeps for up to three days in the fridge.
This recipe goes with Grilled Chicken Breast, Grilled Striped Bass, Roasted Pork Tenderloin
Yield: 20 servings (serving size: 2 tablespoons)
2 ⅔ cups chopped nectarine
½ cup finely chopped green onions
¼ cup golden raisins
1 tablespoon cider vinegar
1 teaspoon minced peeled fresh ginger
¼ teaspoon salt
¼ teaspoon minced garlic
¼ teaspoon freshly ground black pepper
Combine all ingredients in a medium bowl; toss well. Cover and chill at least 1 hour.
Nutritional notes:
Calories: 17
Fat: 0.1g (sat 0.0g,mono 0.0g,poly 0.0g)
Protein: 0.4g
Carbohydrate: 4.1g
Fiber: 0.5g
Cholesterol: 0.0mg
Iron: 0.1mg
Sodium: 30mg
Calcium: 4mg
MacGourmet Rating: 5 Stars