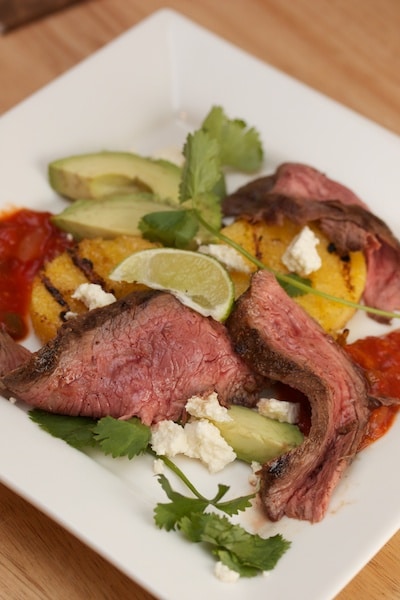 Grilled Polenta with Spicy Steak
This post may contain affiliate links. Thank you for supporting the brands that keep me creative in my tiny kitchen!
This recipe was in a section of Cooking Light magazine about Easy 20 Minute Entrees. I'm glad I had picked this out for a Monday night, because I ended up getting into a car accident on my way home from work (ughhh!! I'll be fine, but DANG my new car keeps getting hit by idiots!), so Dino had to cook this one. It was an easy recipe, and he did an amazing job! So I plated it up and we enjoyed a nice, kinda spicy, fun to eat meal. The grilled polenta is really great with the steak – it's almost like fajitas with polenta instead of tortillas. All of the elements had great texture, and a lot of tasty flavors.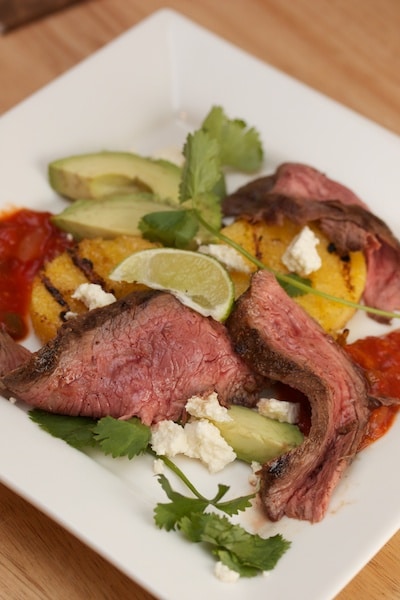 Grilled Polenta with Spicy Steak
Cooking Light June 2010
Look for tubes of prepared polenta in the refrigerated part of the produce section.
Yield: 4 servings
4 teaspoons canola oil, divided
3/4 teaspoon kosher salt, divided
1/2 teaspoon ground cumin
1/2 teaspoon chipotle chile powder
1/4 teaspoon freshly ground black pepper
1 (1-pound) flank steak, trimmed
1 (18-ounce) tube of polenta, cut into 8 slices
1 ripe peeled avocado, sliced
1/2 cup fresh cilantro leaves
1/2 cup (2 ounces) crumbled queso fresco
1/2 cup refrigerated fresh salsa
Lime wedges (optional)
1. Heat a grill pan over medium-high heat. Combine 1 teaspoon oil, 1/2 teaspoon salt, cumin, chile powder, and pepper; rub evenly over steak. Add steak to pan; cook 6 minutes on each side or until desired degree of doneness. Remove steak from pan; let stand 5 minutes. Cut steak diagonally across grain into thin slices.
2. While steak rests, brush remaining 1 tablespoon oil over both sides of polenta slices; sprinkle evenly with remaining 1/4 teaspoon salt. Add polenta to pan; cook 3 minutes on each side or until browned. Arrange 2 polenta slices on each of 4 plates; divide avocado evenly among servings. Top each serving with about 3 ounces steak, 2 tablespoons cilantro leaves, 2 tablespoons queso fresco, and 2 tablespoons salsa. Serve with lime wedges, if desired.
CALORIES 397 ; FAT 19.2g (sat 4.6g,mono 10.1g,poly 2.6g); CHOLESTEROL 41mg; CALCIUM 70mg; CARBOHYDRATE 24g; SODIUM 739mg; PROTEIN 28.9g; FIBER 5.1g; IRON 3.1mg
Big Flavors Rating: 4 Stars