I wanted to do a summery version of grilled cheese and tomato soup, and I found this recipe that looked really interesting. Unfortunately, it was just OK. It was missing something - tanginess or sharper cheese or something sweeter...I'm not sure. It was fine, and it worked for dinner, but I probably won't use this particular combination again. Also note that if you're actually making 4 sandwiches, you'll need 8 slices of bread - the recipe says 4.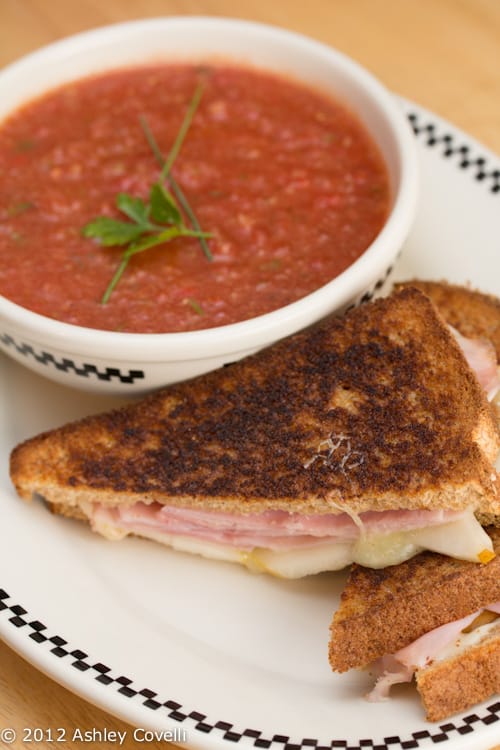 Grilled Ham and Cheese with Pears
Everyday Food - October 2003
Pears come in more than 5,000 varieties. Choose ones that are firm, without blemishes and with stems attached. The pears at the supermarket have often spent a few months in cool storage, so they are usually a few days from being fully ripe.
Prep Time: 20 minutes
Total Time: 20 minutes
Yield: Serves 4
4 slices sandwich bread
8 ounces Gruyere cheese
1 pear, thinly sliced
8 ounces deli ham, thinly sliced
Butter
Layer 4 slices of sandwich bread with 8 ounces Gruyere or other melting cheese, 1 thinly sliced pear, and 8 ounces thinly sliced deli ham; top each with bread.
Heat a large skillet over medium heat. Spread outside of both bread slices with butter. Cook sandwiches in batches, if necessary, until golden and cheese is melted, flipping once, 3 to 5 minutes per side. Cut sandwiches in half and serve hot.
Big Flavors Rating: 3 Stars