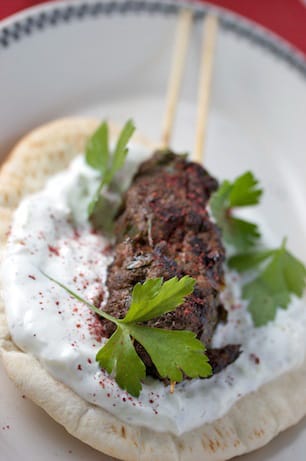 Grilled Beef Kebabs with Yogurt Sauce
This post may contain affiliate links. Thank you for supporting the brands that keep me creative in my tiny kitchen!
This was a great meal. We just got a cast iron grill pan, so this was the perfect dish to try out on it. My only changes were to sprinkle on a little sumac at the end and to squeeze some lemon juice over them right before eating. The acid really helps this one out. Definitely try to go for Greek yogurt – it's super thick and rich. I'll be using this method for grilling meat again, but with variations on the ingredients.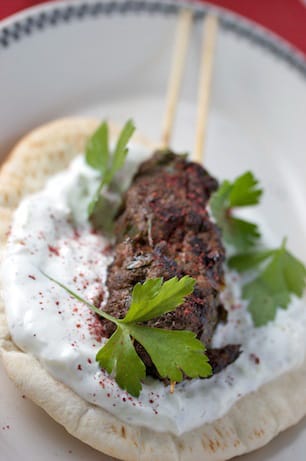 Grilled Beef Kebabs with Yogurt Sauce
Every Day with Rachael Ray
Look for Greek yogurt in your supermarket's dairy case. It's thicker and creamier than the traditional variety and will really make a difference in this recipe.
PAIR WITH: Sebeka Shiraz-Pinotage "Cape Blend" 2006 (South Africa)
4 Servings
Prep 20 min
Cook 20 min
1-½ cups plain whole-milk yogurt
½ cup grated English cucumber, wrung out in a kitchen towel
1 teaspoon dried dill
2 cloves garlic, finely chopped
Salt and pepper
1-½ lb. ground beef
½ cup chopped flat-leaf parsley, plus whole leaves for garnish
1-½ tablespoons ground cumin
2 tablespoons extra-virgin olive oil
Warm pita bread, for serving
Tip: Use ground lamb instead of beef.
1. Soak 8 wooden skewers in water. In a small bowl, combine the yogurt, cucumber, dill and half the garlic; season to taste with salt and pepper. Refrigerate.
2. Preheat a grill or grill pan to medium-high. In a medium bowl, combine the beef, remaining garlic, chopped parsley and cumin. Add salt and pepper to taste. Divide the beef mixture into 4 sections. Roll each section into a 6-inch log. Thread each log lengthwise onto two parallel skewers. Wrap your index finger and thumb around the log and lightly squeeze from top to bottom to make 4 indented rings. Rub the beef kebabs with olive oil and grill for 6 to 8 minutes on each side, or to desired doneness. Top each kebab with the yogurt sauce and parsley leaves and serve on a pita.
MacGourmet Rating: 4 Stars