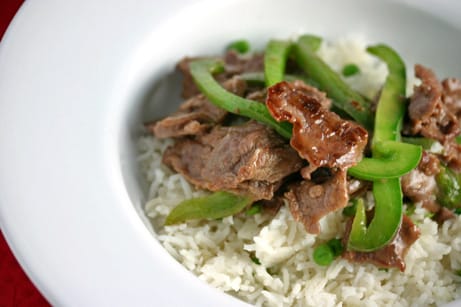 This post may contain affiliate links. Thank you for supporting the brands that keep me creative in my tiny kitchen!
This is another recipe that I've had for a while that is on regular rotation in my house. I'm not sure what the original source is, so if anyone knows, drop me a line so I can give credit! This dish has a quick marinade, and it comes together for an easy dinner. It's great how much flavor comes out of these few ingredients!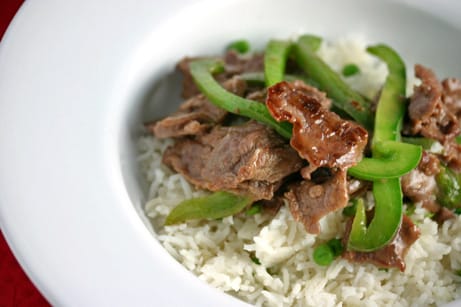 Green Pepper Steak
1 lb. flank steak
TO MARINATE BEEF:
2 T. soy sauce (regular or lite)
1 T. white wine (cooking or regular)
4 teaspoons cornstarch
4 teaspoons water
1 teaspoon salt
1 green pepper
2-3 green onions
l/ 2 teaspoon sugar
3 T. oil (vegetable or canola, not sesame oil)
Measure marinade ingredients into a large plastic bag or large bowl and put
aside. (Less clean up with plastic bag!) Slice beef into thin strips
cross-wise (across the grain). HINT: partially freeze the meat which will
make it much easier to slice. Add meat to marinade ingredients and let soak
for ten minutes or longer, if needed.
While marinating the beef, clean out seeds from green peppers and then cut
them into thin slices. Slice green onions as well.
Heat 3 T. oil in pan, fry beef and stir briskly over medium-high to high
heat until done. Add green peppers and onion and sprinkle sugar and salt
over the mixture and mix thoroughly.
MacGourmet Rating: 5 Stars