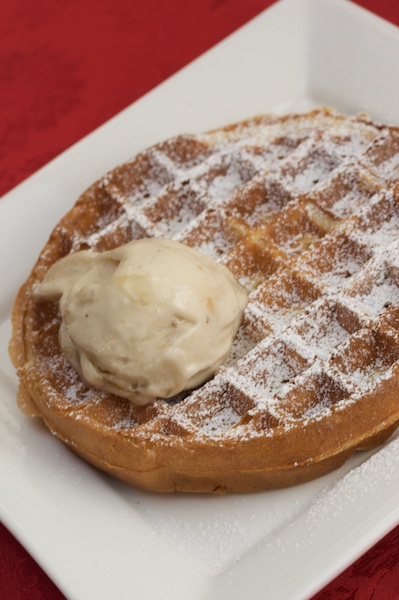 Goodbye Breakfast – Emma's Belgian Waffles with Banana "Ice Cream"
This post may contain affiliate links. Thank you for supporting the brands that keep me creative in my tiny kitchen!
To send my parents off, we came up with an awesome idea – combining our love of Belgian waffles with our love of making the ever-amazing banana "ice cream" for breakfast. (If you haven't seen it around the web yet, you can slice up ripe bananas, freeze them in a bag, and whenever you want ice cream, just pop some in a blender and you have a healthy, one ingredient, guilt-free ice cream!) Dino made some amazing Belgian waffles, threw some frozen bananas with a splash of soy milk into the blender, dusted them with powdered sugar, and voila! Breakfast was awesome! Topped with a bit of maple syrup, these are a fantastic breakfast idea – the cold and hot mixture is just great. We'll definitely be doing this again!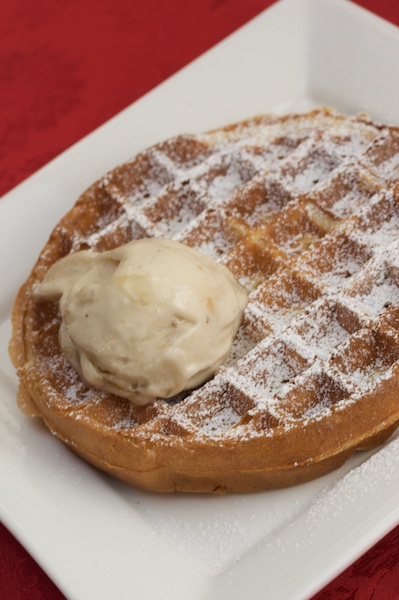 Emma's Belgian Waffles
Allrecipes – Chef Emma
"These waffles taste wonderful, but are simple to make and include self-rising flour instead of yeast."
Prep Time: 10 Min
Cook Time: 20 Min
Ready In: 1 Hr 10 Min
Yield 6 servings
2 egg yolks
5 tablespoons white sugar
1 1/2 teaspoons vanilla extract
1/2 cup butter, melted
1 teaspoon salt
2 3/4 cups self-rising flour
2 cups warm milk
2 egg whites
1. In a large bowl, beat together egg yolks and sugar. Beat in vanilla extract, butter and salt. Alternately mix in flour and milk until blended well.
2. In a separate bowl, beat egg whites until they have formed soft peaks. Fold egg whites into batter and let stand for 40 minutes.
3. Spray preheated waffle iron with non-stick cooking spray. Pour mix onto hot waffle iron. Cook until golden brown and fluffy.
Nutritional Information:
Amount Per Serving Calories: 448 | Total Fat: 19.2g | Cholesterol: 119mg
Big Flavors Rating: 5 Stars