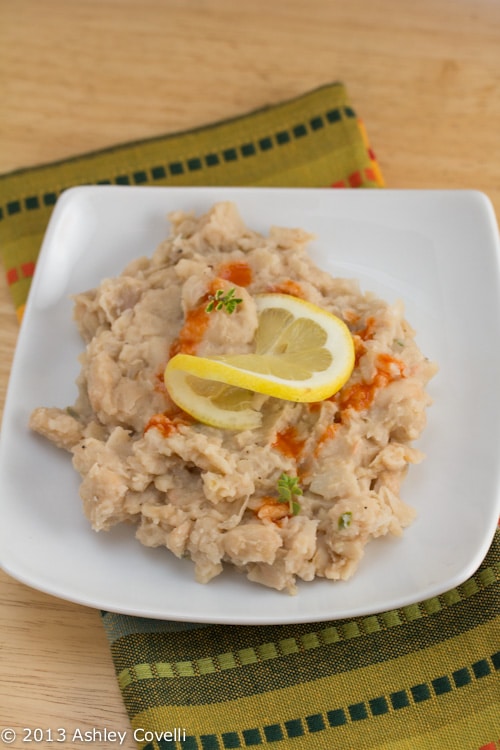 Garlic Thyme White Bean Smash
This post may contain affiliate links, which won't change your price but will share some commission.
I won a copy of this cookbook a few weeks ago, and I finally got around to making a few recipes from it. The book is absolutely beautiful, and I have a lot of things flagged to make in the future. This dish was nice and hearty – it's a good substitute for the typical side of mashed potatoes. I used thyme from my garden, and the flavor was great. I went kind of heavy on the hot sauce, as it really adds a lot of flavor to this dish.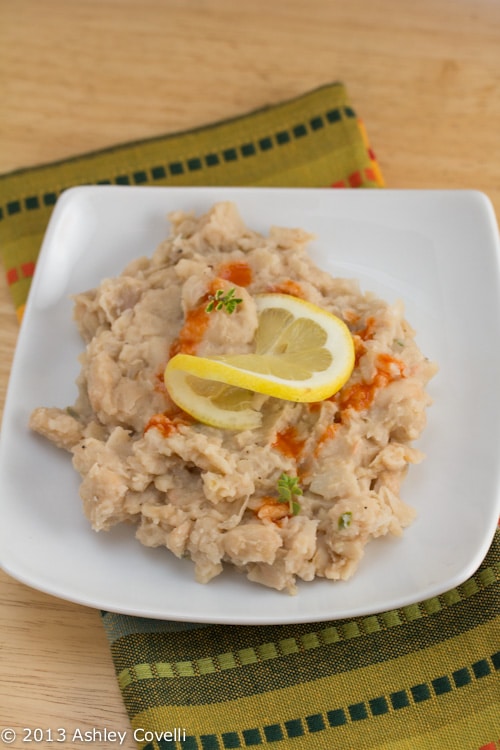 Garlic Thyme White Bean Smash
Virgin Vegan: Everyday Recipes for Satisfying Your Appetite – Donna Kelly and Anne Tegtmeier
2 medium shallots, diced
3 cloves garlic, minced
1/4 cup extra virgin olive oil, divided
2 tablespoons minced thyme leaves or other fresh herbs
4 cans (15 ounces each) any variety white beans, drained and rinsed
1 tablespoon lemon juice
1/4 cup water, or more as needed
Salt and pepper, to taste
Cayenne pepper sauce, to taste
In a large skillet, sauté the shallots and garlic over medium heat in 1 tablespoon oil for 2-3 minutes, until the onion is translucent. Add thyme leaves and cook another minute. Add in beans and remaining oil and mash with potato masher. Slowly add in lemon juice and water as needed to reach a fluffy, mashed potato-type texture. Taste and add salt, pepper, and cayenne pepper sauce, as desired. Serve warm.
Big Flavors Rating: 4 Stars