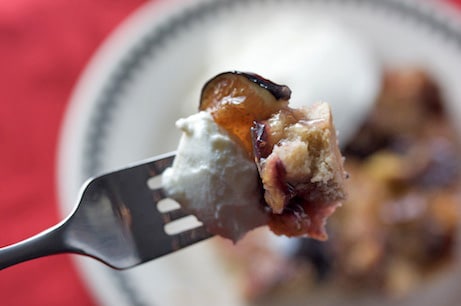 This post may contain affiliate links. Thank you for supporting the brands that keep me creative in my tiny kitchen!
I've been eying this recipe since I first received this magazine in the mail back in July, but it wasn't until today that I found some fresh figs in the store. This wasn't too difficult to put together – the only part that I missed was chilling it for 30 minutes. Somehow I completely overlooked that part. It turned out great, though, so if you're impatient, I don't think that you have to wait. The greek yogurt adds a nice tanginess at the end that goes really well with the sweet honey and fig topping on this tart. It was a little tricky to cut since I didn't want to risk the honey and fig juice pouring out of the edge of the pan, so I didn't remove the sides of the springform before cutting.
Ooh! And as an added bonus, I used my new food scale for the first time when making this crust. It made it super easy! I used a 10″ springform pan.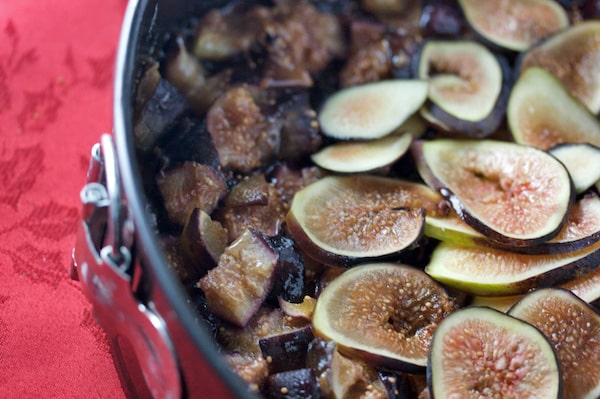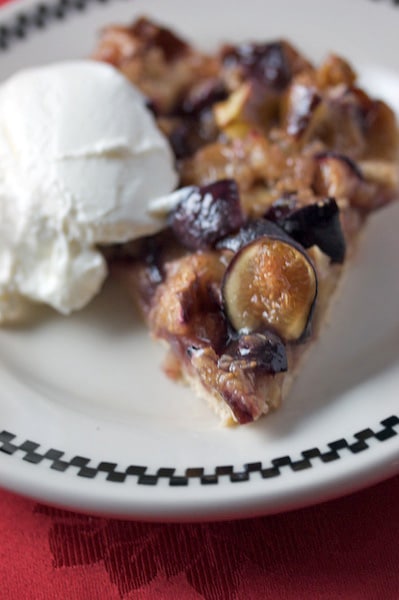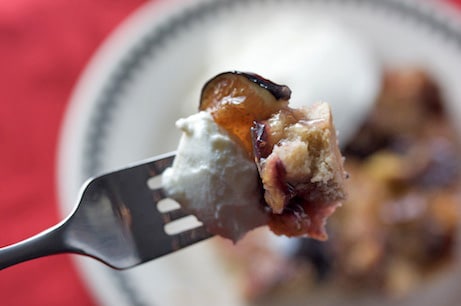 Fresh Fig Tart
Cooking Light August 2009
Warmed honey makes an easy, glistening glaze for this dessert. Allow about 30 minutes chilling time once the crust is pressed into the tart pan.
Yield 12 servings (serving size: 1 tart wedge and 1 tablespoon yogurt)
Crust:
Cooking spray
6.75 ounces all-purpose flour (about 1 1/2 cups)
2 tablespoons sugar
1/2 teaspoon ground cinnamon
1/8 teaspoon salt
6 tablespoons chilled butter, cut into small pieces
1 teaspoon vanilla extract
1 large egg
Filling:
2 pounds firm ripe Black Mission figs, trimmed
1/4 cup sugar
2 tablespoons all-purpose flour
2 tablespoons honey
3/4 cup 2% reduced-fat Greek-style yogurt
1. Preheat oven to 400°.
2. To prepare crust, coat a 9-inch round removable-bottom tart pan with cooking spray; set aside. Weigh or lightly spoon 6.75 ounces flour into dry measuring cups; level with a knife. Combine 6.75 ounces flour, 2 tablespoons sugar, cinnamon, and salt in a food processor; pulse to combine. With processor on, gradually add butter through food chute, processing until mixture resembles wet sand. Combine vanilla and egg in a small bowl; stir with a whisk. With processor on, gradually add egg mixture, processing until dough forms. Turn dough out into prepared pan; gently press into bottom and up sides of pan. Chill 30 minutes.
3. To prepare filling, thinly slice figs to measure 1 1/2 cups; cut remaining figs into (1/2-inch) pieces (about 5 cups). Combine fig pieces, 1/4 cup sugar, and 2 tablespoons flour, tossing to coat figs. Spoon fig mixture into prepared crust. Bake at 400° for 20 minutes; reduce oven temperature to 350° (do not remove tart from oven). Bake an additional 25 minutes or until bubbly. Remove from oven; arrange fig slices over top of tart.
4. Place honey in a microwave-safe bowl. Microwave at HIGH 1 minute; brush over fig slices. Cool tart slightly on a wire rack. Serve warm with yogurt.
Nutritional Information
Calories: 224
Fat: 6.6g (sat 4g,mono 1.7g,poly 0.3g)
Protein: 4.3g
Carbohydrate: 36.7g
Fiber: 2.5g
Cholesterol: 34mg
Iron: 1.1mg
Sodium: 77mg
Calcium: 53mg
MacGourmet Rating: 4 Stars