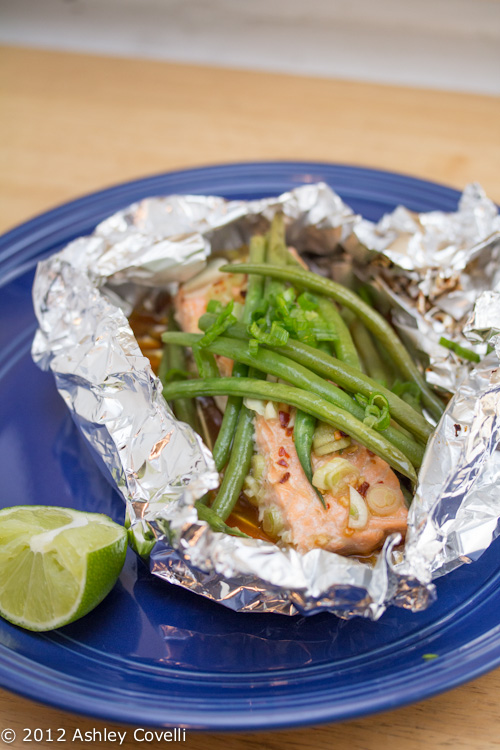 Foil Packet Soy-Lime Salmon with Green Beans
This post may contain affiliate links. Thank you for supporting the brands that keep me creative in my tiny kitchen!
Tonight was supposed to be our Supper Club's monthly meeting, but we had to cancel since we've been so sick. I wanted to get back in the kitchen, but I didn't want to make anything complicated. This is one of our favorite quick and easy meals. I served it with Spicy Sautéed Beet Greens with Garlic Chips and some couscous. The sauce in the bottom of the packets was great drizzled over the couscous. Yum!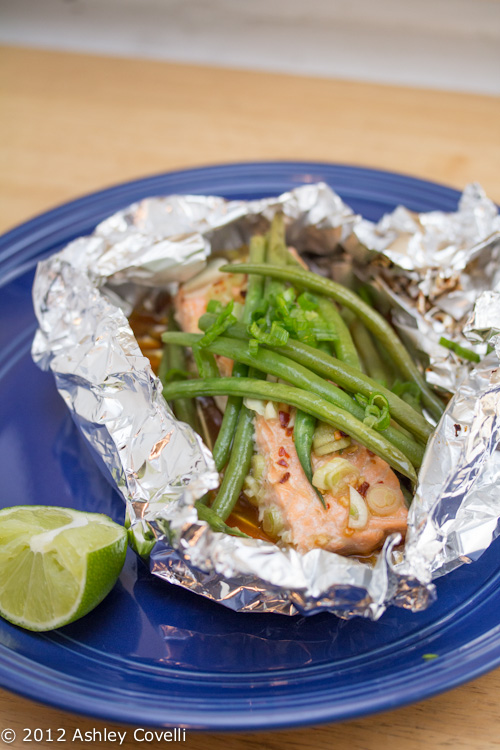 Foil Packet Soy-Lime Salmon with Green Beans
Confections of a Foodie Bride
Yields: 4 servings
Estimated time: 30 minutes
Salmon is glazed with honey, soy sauce, and lime and then baked foil packet-style with garlic and fresh green beans.
4 6-oz salmon filets
2 Tbsp low-sodium soy sauce*
2 tsp honey
Red pepper flakes
3 green onions, cut and divided (white and light green parts separated from dark green)
1 lime, quartered
Green beans, trimmed (I used 12-15 per packet; thinner ones work best)
2 cloves garlic, thinly sliced
Olive oil
Salt
Pepper
Preheat oven to 425.
Tear 4 pieces of foil 12-14 inches long.
Place a salmon filet in the center of each piece of foil.
Whisk soy and honey together in a small bowl (a few seconds in the microwave will help if it's slow to come together).
Brush each filet with soy-honey mixture until it's gone.
Squeeze 1 lime wedge over each filet.
Sprinkle each filet with pepper, white & light green onions, and pinch of crushed red pepper.
Place green beans on top of the filet (they won't all stay) and top with garlic slices, a drizzle of olive oil, and a pinch of salt.
Seal the foil packet – bring the right and left sides together and fold down, sealing, and then fold up each end to seal.
Bake for 18 minutes.
Let cool a few minutes before tearing open the foil and transferring to plates.
Serve the salmon and green beans drizzled with a spoonful of the foil packet sauce and remaining green onion tops.
*Optional: use Gluten Free
Big Flavors Rating: 5 Stars