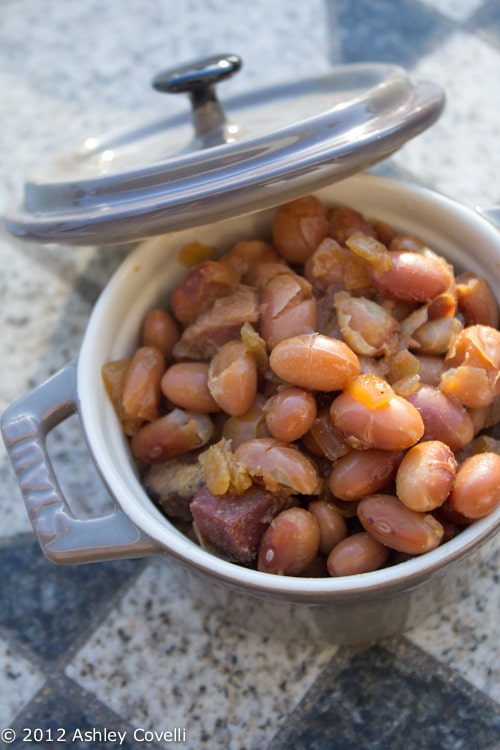 Father's Day: Slow Cooked Boston Baked Beans
This post may contain affiliate links. Thank you for supporting the brands that keep me creative in my tiny kitchen!
I saw this post over at Simply Recipes, and thought it would be perfect to go with some grilled food for Father's Day. It was thinner than I was hoping for (I like my baked beans to have a thick sauce), but it was really tasty, and a big hit.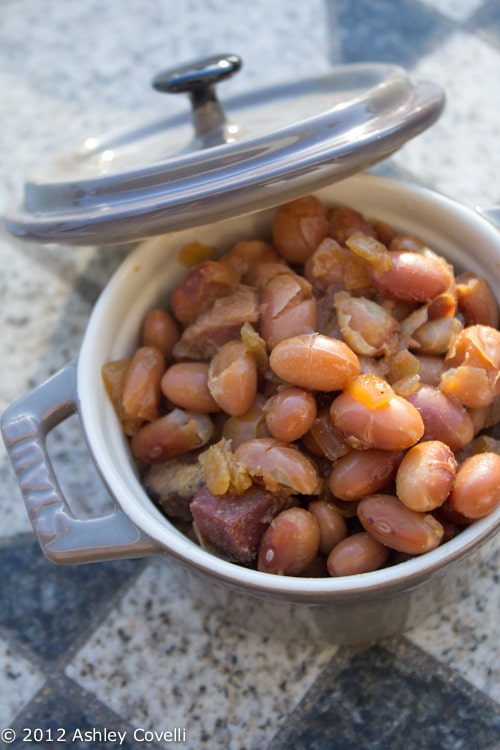 Slow Cooked Boston Baked Beans
Simply Recipes
Cook time: 8 hours
1 pound (2 to 2 1/4 cups) dry white beans such as Navy beans or Great Northern beans (can also use kidney beans)
1/3 cup molasses
1/3 cup brown sugar
3-4 Tbsp Dijon mustard
1/8 teaspoon ground cloves
3 cups hot water
1/2 pound salt pork (can sub bacon), cut into 1/2-inch to 1-inch pieces
1 medium onion, (1 1/2 cups) chopped
1 Place beans in a large pot and cover with 2 inches of water. Soak overnight and drain. Alternatively, bring a pot with the beans covered with 2 inches of water to a boil, remove from heat and let soak for a hour, then drain.
2 Mix the molasses, brown sugar, mustard, and ground cloves with 3 cups of hot water.
3 Line the bottom of a slow-cooker (or a Dutch oven if you are cooking in the oven) with half of the salt pork (pick the fattiest pieces). Layer over with half of the drained beans. Add all of the onions in a layer, then top with another layer of beans and the remaining salt pork. Pour the molasses water mixture over the beans to just cover the beans.
4 Cover and cook in a slow-cooker on the low setting for 8 hours (or in a 250°F oven), until the beans are tender. Check the water level a few hours in, and if the beans need more water, add some. Add additional salt to taste if needed. Note that fresher beans will cook faster than older beans. Your beans may be ready in less than 8 hours, or they may take longer. Best the next day.
Yield: Serves 5-6 as a main dish or 10-12 as a side.
Big Flavors Rating: 4 Stars