This post may contain affiliate links, which won't change your price but will share some commission.
I was looking for a crowd-pleasing side dish for Father's Day dinner, and this looked like just the type of thing that would hit the spot. Bacon, smoked Gouda, sour cream, milk and butter make this nice and rich. I used some of the Crispy Oven-Baked Bacon that I made earlier today, and some of the purple scallions that I picked up at the Farmers Market yesterday. It makes a ton, so there's enough for everyone to indulge. I think it would be great for a potluck, because mashed potatoes are always good, but these are fancied up enough to make them special. This is super hot until you dive in and spoon it out onto plates, so give it a few minutes to cool, lest you burn the roof of your mouth. Consider yourself warned 😉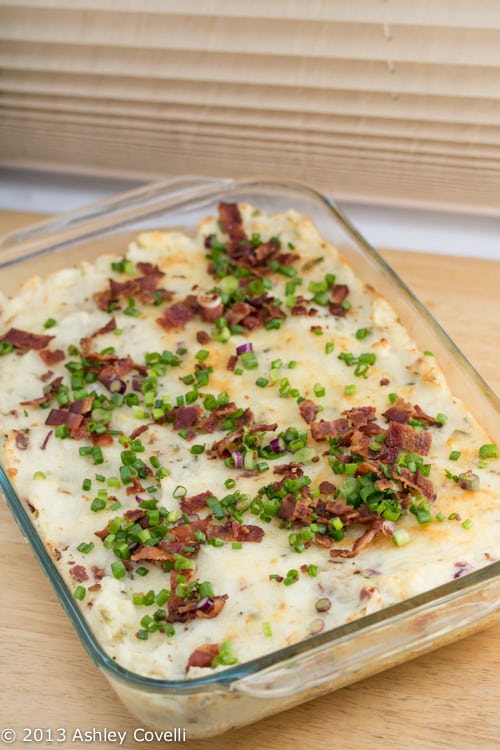 Mashed Potatoes with Gouda and Bacon
A Hint of Honey (adapted from Bon Appetit)
8 slices bacon
5 large green onions, finely chopped
3 lbs. russet potatoes, peeled and cubed
½ cup sour cream
¼ cup butter
⅓-1/2 cup milk (to desired consistency)
2 cups (about 8 oz.) smoked gouda, grated
salt and freshly ground black pepper, to taste
1. Butter a 9x13 baking dish. Cook bacon until browned and crisp. Transfer to paper towels to drain. Chop bacon. Place in a medium bowl and add green onions; toss to combine.
2. Place potatoes in a large pot and add enough water to cover. Sprinkle with salt. Cover and boil with lid slightly ajar until tender, 15-20 minutes. Drain.
3. Add the sour cream, butter, and milk to the pot. Using a potato masher, mash until almost smooth. Add more milk to thin if necessary. Stir in 1 ½ cups smoked gouda and 1 cup of the bacon-onion mixture. Season to taste with salt and freshly ground black pepper. Spread in the prepared baking dish. Top with remaining cheese.
4. Preheat oven to 375 F and bake for about 30 minutes until the edges are bubbling and the top is golden. Top with the remaining bacon-onion mixture and serve.
Serves 6-8.
Big Flavors Rating: 4 Stars