This post may contain affiliate links, which won't change your price but will share some commission.
I've been following the Stone Soup blog for a long time now. I love how most of her recipes involve 5 or fewer ingredients, and not too much of a time commitment. And the recipes are usually really healthy, too. I saw this post and decided that I needed to try it out. Dino didn't like eggplant too much until recently (I don't think he had it cooked properly before), so I'm always happy to try out a new recipe on him. It's amazing how much flavor develops from letting these slices of eggplant caramelize in the pan. The minty, parmesan peas are the perfect accompaniment, and the little splash of lemon juice adds just the right amount of acidity. This is a perfect weeknight dish, and I love the ideas given for variations, too.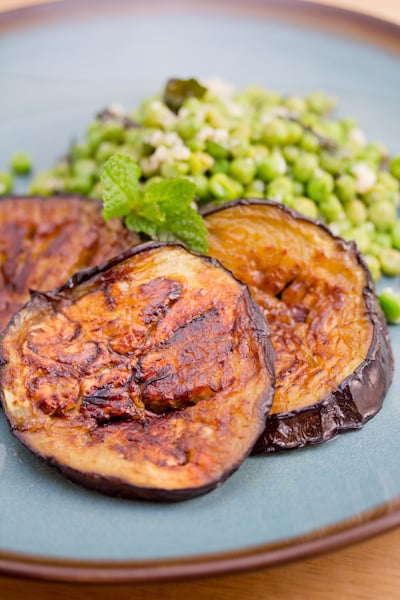 Eggplant Steaks with Parmesan Peas
Stonesoup
serves 2
takes 15-20 minutes
The secret for really lovely eggplant steaks is the same as regular beef steaks. Cut them thickly! Although for the eggplant it's best to cook on a low-medium heat so the middles get to go all lovely and melting and the outsides avoid over-charring.
If you're short on time, by all means go for thinner slices and a higher heat – I guess you could call them eggplant 'minute steaks'.
Cooking with the lid on helps trap in the heat and steam and minimise burning. It gives the most divinely silky eggplant texture without having to resort to obscene amounts of oil.
1 medium eggplant
2 handfuls frozen peas
1 large handful grated parmesan cheese
small handful fresh mint leaves
1-2 tablespoons lemon juice
1. Get a large fry pan on a medium heat. Slice eggplant into steaks about 2cm (¾in) thick.
2. Add a very generous glug of olive oil to the pan and then add the eggplant slices. Sprinkle a little salt over the top and cover with a lid.
3. Cover with a lid and cook, turning at least every 5 minutes until the eggplant are soft and deeply browned (about 15 minutes). If they start to burn, turn the heat down.
4. Meanwhile heat a little more olive oil in a small pan. Add the frozen peas and cook, stirring occasionally for about 5 minutes or until the peas are hot and sweet.
5. Remove peas from the heat and stir in the lemon juice, parmesan & mint. Season.
6. Serve 'steaks' with peas on the side.
VARIATIONS
carnivore: serve peas with lamb cutlets that have been cooked on a high heat for 2.5 – 3 minutes each side
vegan / dairy-free: replace the parmesan with brazil nuts finely grated using a microplane grater.
mushroom steaks: Skip the eggplant. Trim 1-2 large field or portabello mushrooms and sear on a high heat for about 5 minutes each side, until very soft.
herby: Replace the mint with fresh basil or flat leaf parsley leaves.
Big Flavors Rating: 4 Stars