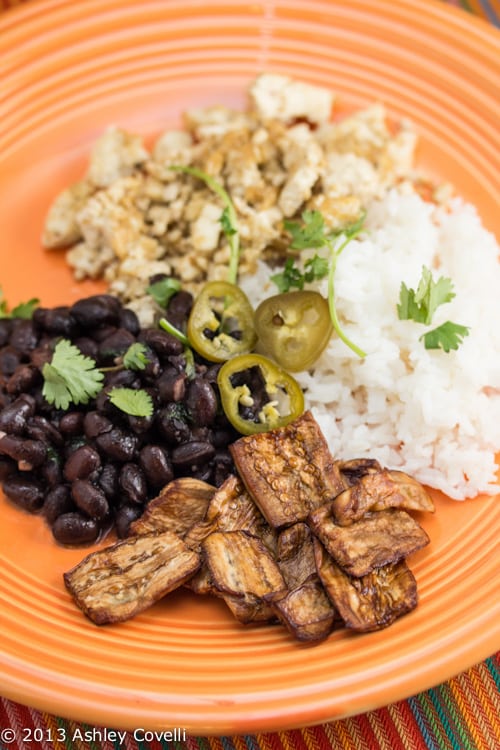 This post may contain affiliate links, which won't change your price but will share some commission.
When I won this cookbook a few months ago, the recipe for Eggplant Bacon was the first one to jump out at me. I wanted to wait until I found some Japanese eggplant to make it. So when I found some at the Farmers Market last weekend, I knew exactly what I wanted to make. Let me start out by saying that the flavor of this "bacon" is FANTASTIC. I had some issues with the actual recipe that made it frustrating, to say the least. I should have went with my gut and cut them into longer, thinner strips. I'm not sure if I'm reading the recipe wrong, but it sounded like it was telling me to cut them into 1 inch pieces. I dunno. Also, there was no temperature specified for baking the "bacon". I went with 350°F. Again, not sure if that was right. I think that the thickness of the eggplant, plus it being saturated in this marinade made it a little soggy when trying to flip, and that really frustrated me. I think maybe this would be better as cubes of eggplant with this marinade, stir-fried with something. It didn't work out too well as "bacon" for me. But again, it tasted wonderful, so it's definitely something I'll try out again. This went really well with the Scrambled Tofu, Go-To Black Beans and Pickled Jalapeños in tonight's Mexican-inspired vegan breakfast for dinner.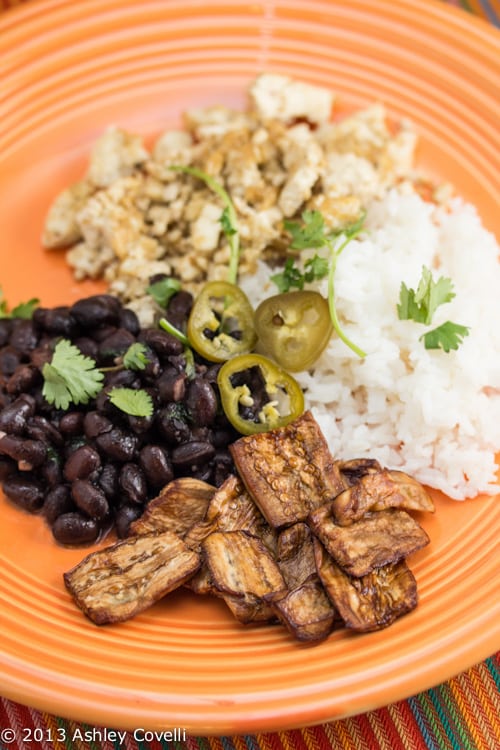 Eggplant Bacon
Virgin Vegan: Everyday Recipes for Satisfying Your Appetite – Donna Kelly and Anne Tegtmeier
Makes about 12 strips
Smokey, salty, browned strips of deliciousness – that won't clog your arteries!
1 baby eggplant or Japanese eggplant
4 tablespoons low-sodium tamari or soy sauce*
1 tablespoon maple syrup
1 teaspoon liquid smoke
Canola oil spray
Cut eggplant into 1/4-inch thick strips lengthwise and then into 1-inch wide strips, without skin. Toss strips with tamari, syrup, and liquid smoke. Refrigerate for about 2 hours.
Place strips on a baking sheet lined with a silicone baking mat or parchment paper that has been lightly sprayed with oil. Brush with a little of liquid marinade. Spray tops of strips lightly with oil.
Bake for 10 minutes. Turn strips over and brush with marinade. Bake another 10 minutes. Continue baking in 5 minute increments, turning every 5 minutes, watching very closely as you go so as not to burn.
Strips are done when they are lightly browned all over with very dark brown spots. Remove from oven and let cool. Strips will harden as they cool.
*Optional: use Gluten Free
Big Flavors Rating: 4 Stars