This post may contain affiliate links, which won't change your price but will share some commission.
I was inspired by this post over at Kayln's Kitchen to make some breakfast muffins. I liked her method, but used my own combo of ingredients, and didn't need nearly as many eggs to make my batch. I started with 6 eggs thinking I'd make 6 cups with it, but I guess I used more toppings in each cup, so I ended up having enough for a full 12. I forgot to stir them after I added the egg and they turned our just fine. I used the standalone silicone muffin liners and they turned out beautifully! My husband and son really enjoyed them, too! I can see doing this with lots of different combinations of ingredients, and I definitely will be making these again! They're great for breakfast for my baby, too. I love having something healthy that's homemade and ready to go when he gets up in the morning.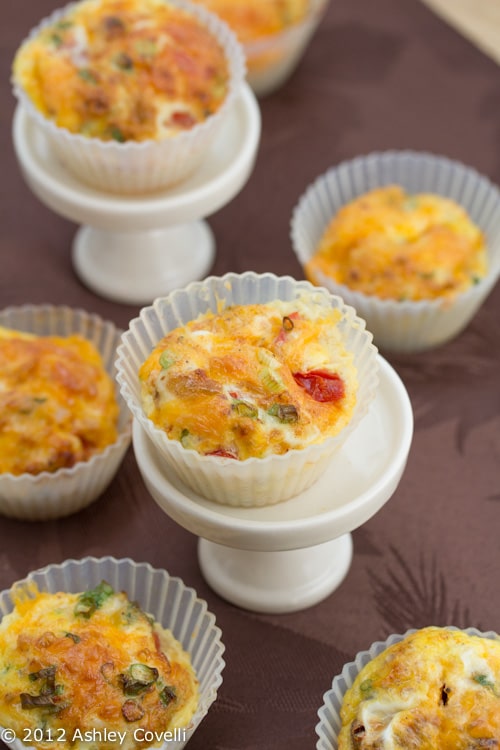 Egg Muffins
Adapted from Kayln's Kitchen
6 eggs (You can use less egg yolks and more egg white if you prefer.)
½ t paprika
¼ t dried mustard
a few dashes of hot sauce
salt and pepper, to taste
any combo of diced veggies/cheese/meat you like - I used:
2 green onions, finely chopped
½ shallot, finely chopped
3 Campari tomatoes, diced
shredded cheddar cheese
fresh parsley, chopped
Preheat oven to 375 F. Use regular or silicone muffin pan, 12 muffin size. If using silicone pan, spray with nonstick spray. If using regular muffin pan, put two paper liners into each slot, then spray liner with nonstick spray.
In the bottom of the muffin cups layer diced veggies, herbs and cheese. You want the muffin cups to be about ⅔ full, with just enough room to pour a little egg around the other ingredients. Break eggs into large measuring bowl with pour spout, add paprika and dried mustard, and beat well. Pour egg into each muffin cup until it is ¾ full. Stir slightly with a fork. Bake 25-35 minutes until muffins have risen and are slightly browned and set.
Muffins will keep more than a week in the refrigerator. Egg muffins can be frozen and reheated, if desired. For best results, thaw in refrigerator before reheating. Microwave on high about 2 minutes to reheat.
Big Flavors Rating: 4 Stars