This post may contain affiliate links, which won't change your price but will share some commission.
My first day back in the kitchen after a week of being sick just so happened to be Pi Day, so you better believe I made pie for dessert!
I thought this pie sounded like it may be a mix between my very favorite Rhubarb Custard Pie, and Bill Clinton's Lemon Chess Pie that I made for Pi Day last year. I also happened to have a few too many eggs in the fridge, so I figured it would be perfect.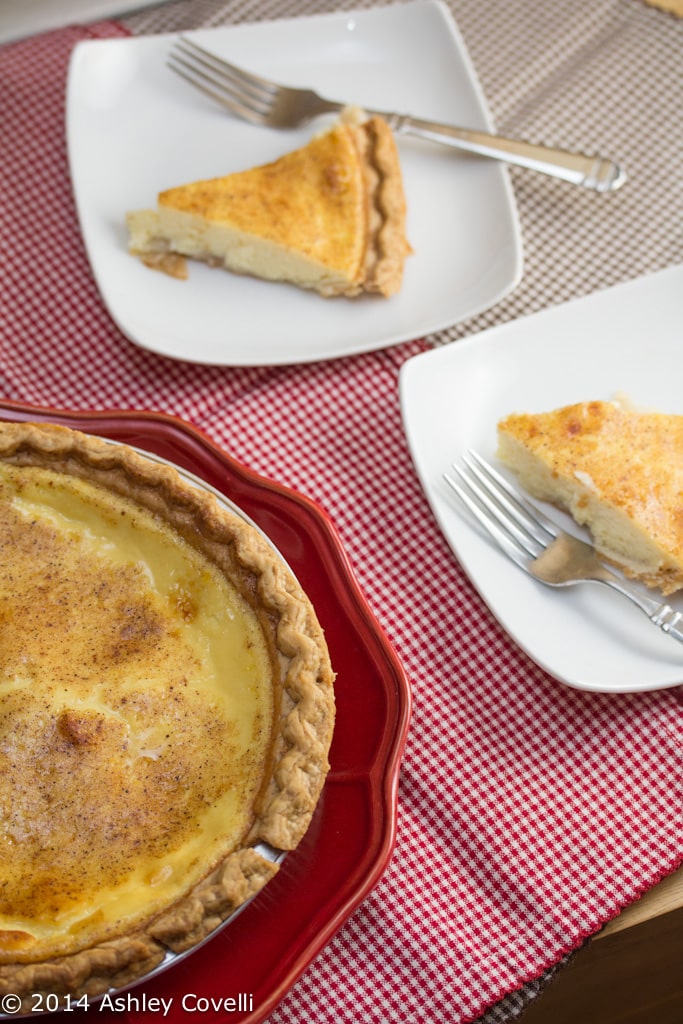 This pie was fine, but nothing spectacular. I wasn't too crazy about the texture. It's not overly sweet, which is fine, but it just didn't do it for me. It tasted a little too eggy, but maybe I'm just not into egg custard without some other flavor to balance it out.
But pie is always a good thing, and we were happy to have a homemade dessert after we ate the Lamb Stir-Fry with Pomegranate and Yogurt for dinner.
I have some other exciting pie news coming up in the near future. Expect to see some fabulous new pies on the blog in the near future 🙂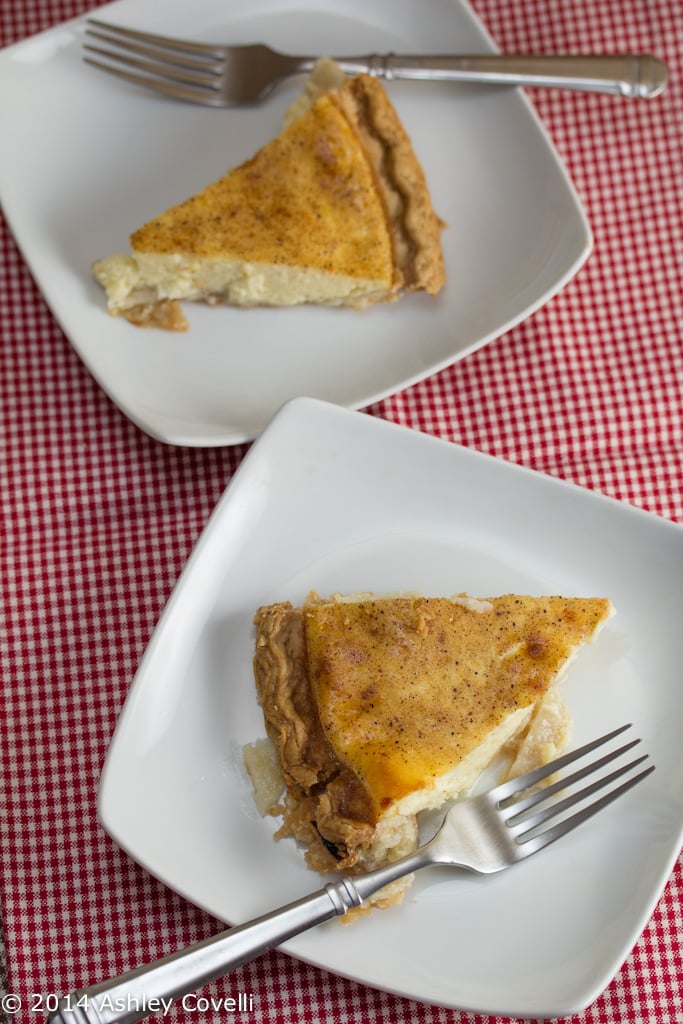 Egg Custard Pie
Never Enough Thyme - Lana Stuart
Yield: 6 servings
Prep Time: 5 minutes
Cook Time: 30 minutes
Total Time: 35 minutes
Old-fashioned egg custard pie with a dusting of nutmeg.
1 (9-inch) unbaked pie crust
1 egg white, lightly beaten
3 whole eggs plus one egg yolk, beaten
¾ cup sugar
¼ tsp. salt
1 tsp. vanilla extract
2 ½ cups whole milk
¼ tsp. ground nutmeg
• If using a frozen pie crust, allow it to thaw at room temperature according to its package directions.
• Prick the crust all over with the tines of a fork.
• Brush thoroughly with beaten egg white. This helps prevent the crust from becoming soggy.
• Set the crust aside.
• Preheat the oven to 400 degrees.
• In a medium bowl, add the beaten eggs, sugar, salt, and vanilla. Beat together.
• Using a wire whisk, add the milk.
• Place the prepared pie crust on a baking sheet.
• Pour the egg and milk mixture into the pie crust filling baking cups with any excess mixture.
• Sprinkle the top with nutmeg.
• Bake for 30-35 minutes or until a knife inserted near the center comes out clean.
• Remove from the oven and transfer to a cooling rack.
• May be served either cold or at room temperature.
Big Flavors Rating: 3 Stars