This post may contain affiliate links, which won't change your price but will share some commission.
This dish sounded interesting to me, and it turned out good, but probably our least favorite from this book so far. The spice blend was really good, and it was warm and spicy, but it didn't really wow us the way that others from this book have. It was still a good meal, but one I probably won't make again.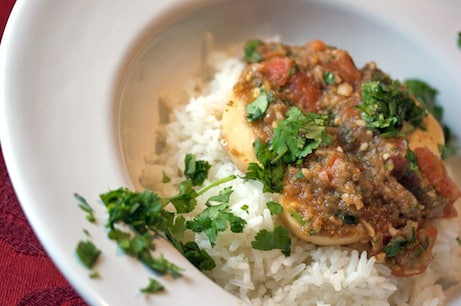 Easter Eggs with an Onion-Garlic Sauce (Pyaaz Waale Unday)
660 Curries: The Gateway to Indian Cooking - Raghaven Iyer
Serves 4
2 tablespoons canola oil
1 cup finely chopped red onion
6 medium-size cloves garlic, finely chopped
2 teaspoons bin bhuna hua garam masala
2 tablespoons finely chopped fresh cilantro leaves and tender stems
1 teaspoon coarse kosher or sea salt
2 fresh green Thai, cayenne, or serrano chiles, stems removed, cut in half lengthwise (do not remove the seeds)
1 medium-size tomato, cored and finely chopped
4 extra-large or jumbo eggs, hard-cooked, peeled, and cut in half lengthwise
1. Heat the oil in a medium-size skillet over medium-high heat. Add the onion and garlic, and stir-fry until the onion is honey-brown around the edges with a deep purple hue, 8 to 10 minutes.
2. Stir in the garam masala and cook for 30 seconds to 1 minute. Transfer the mixture to a blender jar, and pour in 1 cup water. Puree, scraping the inside of the jar as needed, to make a smooth sauce.
3. Pour the sauce back into the skillet and stir in the cilantro, salt, chiles, and tomato. Lower the eggs into the sauce, cut side up. Spoon the sauce over the eggs and bring the curry to a boil over medium-high heat. Don't stir the sauce, but keep basting the eggs with it until it starts to thicken, 5 to 8 minutes.
4. Lift the eggs onto a serving platter, spoon the sauce over them, and serve.
MacGourmet Rating: 3 Stars