This post may contain affiliate links, which won't change your price but will share some commission.
I've said it before, and I'll say it again - I love having a husband who makes breakfast on the weekend. Especially when it's something super tasty like this French toast. I asked him to tell me what he did when he made it, because him saying, "you know, the regular way" doesn't really help me be able to recreate it. Ha! It's nice and simple, and is great with a side of bacon 😉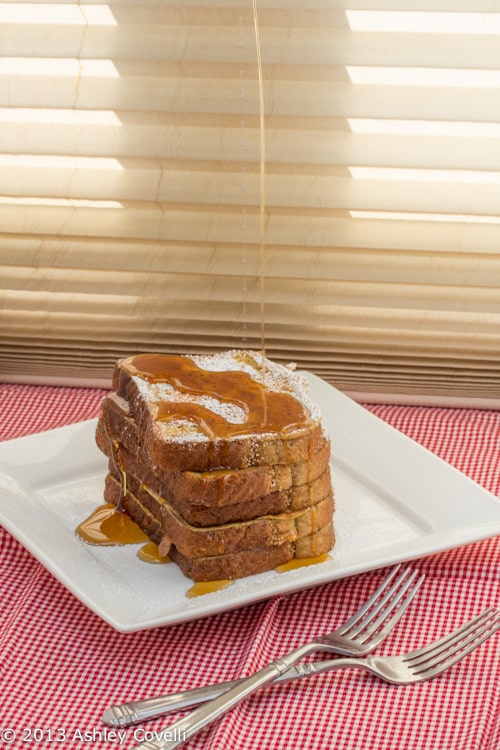 Dino's French Toast
Dino Covelli
Serves 2 adults and 1 toddler
5 slices of bread*
5 eggs
1 tablespoon powdered sugar
1 teaspoon pure vanilla extract
½ teaspoon cinnamon
splash of milk
butter or non-stick spray
powdered sugar, for garnish
pure maple syrup
Preheat griddle or large, non-stick skillet. In a large bowl, beat together the eggs, sugar, vanilla, cinnamon and milk. When the griddle is ready, melt some butter on top or spray with non-stick spray. Dip each slice of bread, one at a time, into the egg mixture and let it soak in a bit. Remove the slice, allowing excess egg to drip off, and then place on the heated griddle. Repeat with remaining bread. Once the bread is browned on the bottom, flip over and brown on second side. Remove from griddle and sprinkle with powdered sugar. Drizzle on some good maple syrup and enjoy!
*Optional: use Gluten Free
Big Flavors Rating: 5 Stars