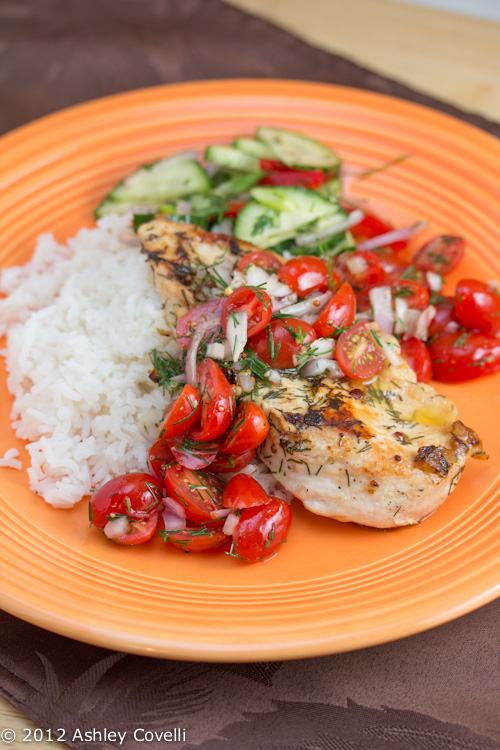 Dill Chicken Paillards with Tomato-Dill Relish
This post may contain affiliate links. Thank you for supporting the brands that keep me creative in my tiny kitchen!
I love fresh dill, and this quick and easy chicken dish is one of my family's favorite ways to enjoy it. I tend to just pan-fry the chicken quickly in a large, non-stick skillet. You don't need to use any extra oil, since there is plenty in the dill mixture. You can speed this up even more by using chicken cutlets, if you don't want to bother pounding the chicken out. The cool tomato topping is wonderful on the chicken, and it's nice and tangy from the mustard and vinegar.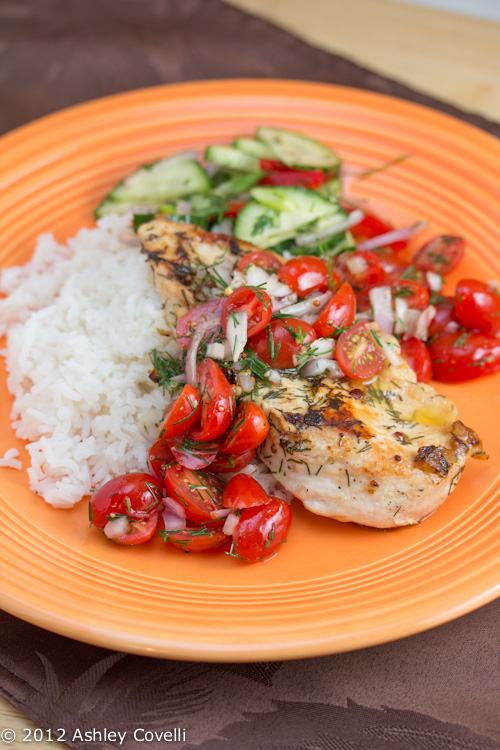 Dill Chicken Paillards with Tomato-Dill Relish
Gourmet September 2009
4 (6-ounces) skinless boneless chicken breast halves
1/4 cup extra-virgin olive oil
1/4 cup chopped dill
3 tablespoons finely chopped shallot
1 tablespoon grainy mustard
1 tablespoon white-wine vinegar
1 pint cherry tomatoes, quartered
Prepare grill for direct-heat cooking over hot charcoal (medium-high heat for gas); see Grilling Procedure.
Pound chicken 1/4 inch thick between 2 sheets of plastic wrap with flat side of a meat pounder or with a rolling pin.
Whisk together oil, dill, shallot, mustard, and vinegar in a large bowl. Set aside 1/4 cup. Sprinkle chicken evenly with 1 teaspoon salt and 1/2 teaspoon pepper, then add to dill mixture, turning to coat.
Toss tomatoes with reserved dill mixture and 1/4 teaspoon each of salt and pepper.
Grill chicken, turning once, until just cooked through, 3 to 4 minutes total. Serve topped with relish.
Cooks' note: Chicken can be cooked in a hot grill pan over medium-high heat, turning once, 5 to 7 minutes total.
Big Flavors Rating: 5 Stars