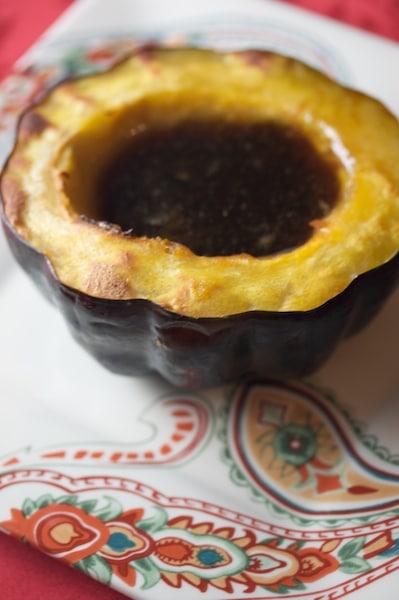 Delicious Baked Acorn Squash
This post may contain affiliate links. Thank you for supporting the brands that keep me creative in my tiny kitchen!
Everything I've tried from The Pioneer Woman's blog has been awesome, and this is no exception. This was a super simple and impressive fall side dish. The sweetness bakes into the squash, and it's perfectly tender and delicious. The only drawback is that you'll burn your tongue if you don't let the molten hot center cool off before you dive in. It may just be worth the pain though… the aroma of this dish is just so great that it's hard to be patient!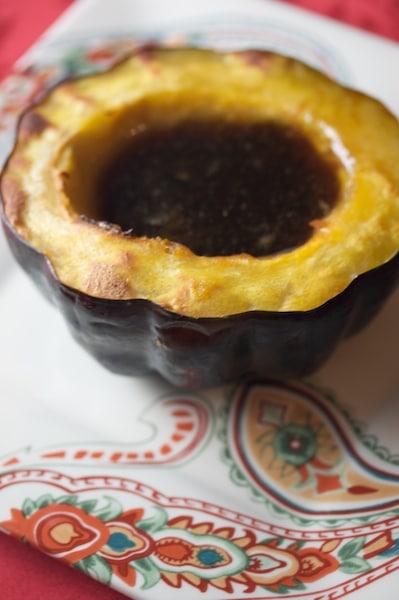 Delicious Baked Acorn Squash
The Pioneer Woman
Prep Time: 15 Minutes
Cook Time: 1 Hour 15 Minutes
Difficulty: Easy
Servings: 6
2 whole Acorn Squash
Kosher Salt To Taste
2 Tablespoons Butter
2 Tablespoons (to 3 Tablespoons) Brown Sugar
Pure Maple Syrup
Preheat oven to 400 degrees.
Halve each squash, then scrape out the seeds and stringy membranes. Place the halves, flesh side up, on a baking sheet and sprinkle each half with salt. Next add a generous tablespoon of butter to the center of each squash followed by 2 to 3 heaping tablespoons of brown sugar. Next drizzle squash with maple syrup. Pour 2 cups water in the bottom of the baking pan.
Cover with aluminum foil and bake for 30 minutes. Remove foil and bake an additional 30-45 minutes, or until squash is golden brown. In the last 5 minutes of baking, turn on the broiler and allow tops to get a little more brown and the butter/sugar mixture to bubble.
Serve on a platter and share with Aunt Winifred.
MacGourmet Rating: 5 Stars