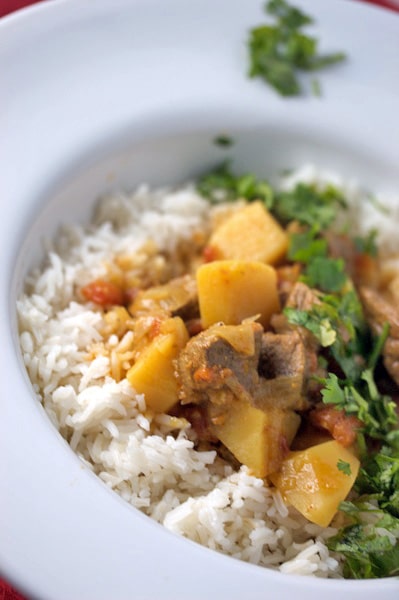 Curried Beef Stew with Potatoes, Shallots, and Malt Vinegar (Goan Gosht Curry)
This post may contain affiliate links. Thank you for supporting the brands that keep me creative in my tiny kitchen!
My second recipe from this cookbook was a huge success! I used my pressure cooker so that it would be speedier, and it worked out beautifully! I cooked it for 30 minutes once it came to pressure and used the natural release method. It was a rich and hearty stew that was spicy but not too much so. I served it on top of basmati rice with some yogurt/cucumber sauce on the side.
Be sure to read the author's notes before starting – I found them very helpful!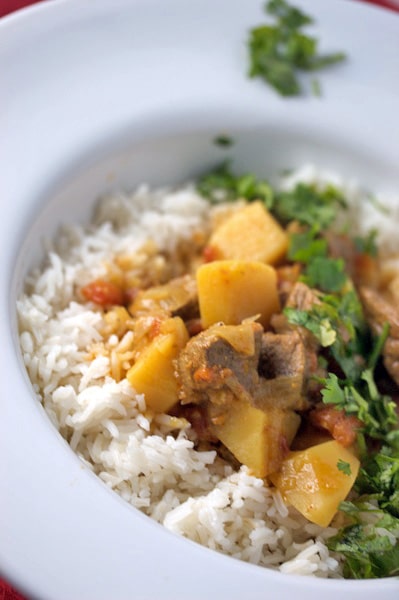 Curried Beef Stew with Potatoes, Shallots, and Malt Vinegar (Goan Gosht Curry)
660 Curries: The Gateway to Indian Cooking – Raghaven Iyer
This is one curry that will appeal to even the most finicky eater, the one who does not like "spicy" food, the one who fails to taste even a small forkful of anything "foreign." Why? Because the ingredient makes appeals to their meat-and-potato, Sunday-beef-stew senses. The spacing is delicate yet complex-tasting, the malt vinegar providing an unusual depth that's mellowed by the creamy coconut milk. Serve it with a hunk of freshly baked crusty bread (store-bought is just fine too) as a simple dinner, or over steamed white rice for something more satiating. The dinner guests at my house use words like "robust," "juicy," "succulent," and "downright yummy" to describe this curry. Serves 6.
1 pound boneless beef (chuck, or "stew meat"), cut into 1-inch cubes
1 teaspoon cayenne (ground red pepper)
1/2 teaspoon ground turmeric
8 pounces russet or Yukon Gold potatoes, peeled, cut into 1-inch cubes, and submerged in a bowl of cold water to prevent browning
2 tablespoons canola oil
4 green or white cardamom pods
2 fresh or dried bay leaves
2 cinnamon sticks (each 3 inches long)
4 ounces shallots, thinly sliced
2 teaspoons cumin seeds, ground
2 teaspoons coriander seeds, ground
1 can (13.5 ounces) unsweetened coconut milk
1 can (14.5 ounces) diced tomatoes
1/4 cup malt vinegar
2 teaspoons coarse kosher or sea salt
2 tablespoons finely chopped fresh cilantro leaves and tender stems for garnishing
1. Toss the beef in a medium-size bowl with the cayenne and turmeric. Refrigerate, covered, for at least 30 minutes or as long as overnight, to allow the spices to flavor the meat.(The Turmeric does tenderize the beef, so the longer you marinade it, the more tender the meat curry.)
2. Drain the potatoes and pat them dry with paper towels.
3. Heat the oil in a large sauce pan or skillet over medium-high heat. Add the cardamom pods, bay leaves, and cinnamon sticks, and cook until they sizzle and are aromatic, 5 to 10 seconds. toss in the beef, shallots, and potatoes. Stir-fry until the beef is seared and the shallots and potatoes are lightly browned, about 5 minutes.
4. Sprinkle in the cumin and coriander, and continue to stir-fry for about two minutes.
5. Pour in the coconut milk, tomatoes with their juices, vinegar and salt. Stir once or twice to deglaze the skillet, releasing any collected bits of spice and shallots. Reduce the heat to medium low, cover, and simmer, stirring occasionally and gently, until the beef cubes are very tender when cut with a fork, the potatoes are tender but still firm, and the sauce is thick,1 1/4 to 1 1/2 hours.
6. Sprinkle with the cilantro, and serve.
Tips:
– the first time I tested this recipe, I was certain that the potatoes would fall apart with overcooking. Beef for stew comes from the tougher cuts of the animal, which require longer cooking times to break down connective tissue, so when I added the potatoes and beef at the same time, I was confident that I would have to retest it adding the potatoes at a later stage. Imagine my surprise when the potatoes held their form after almost an hour and a half! It dawned on me that the acidity of the tomatoes helps to keep the starchy cubes firm.
– If you like, discard the cardamom pods, bay leaves, and cinnamon sticks before you serve the curry.
MacGourmet Rating: 5 Stars